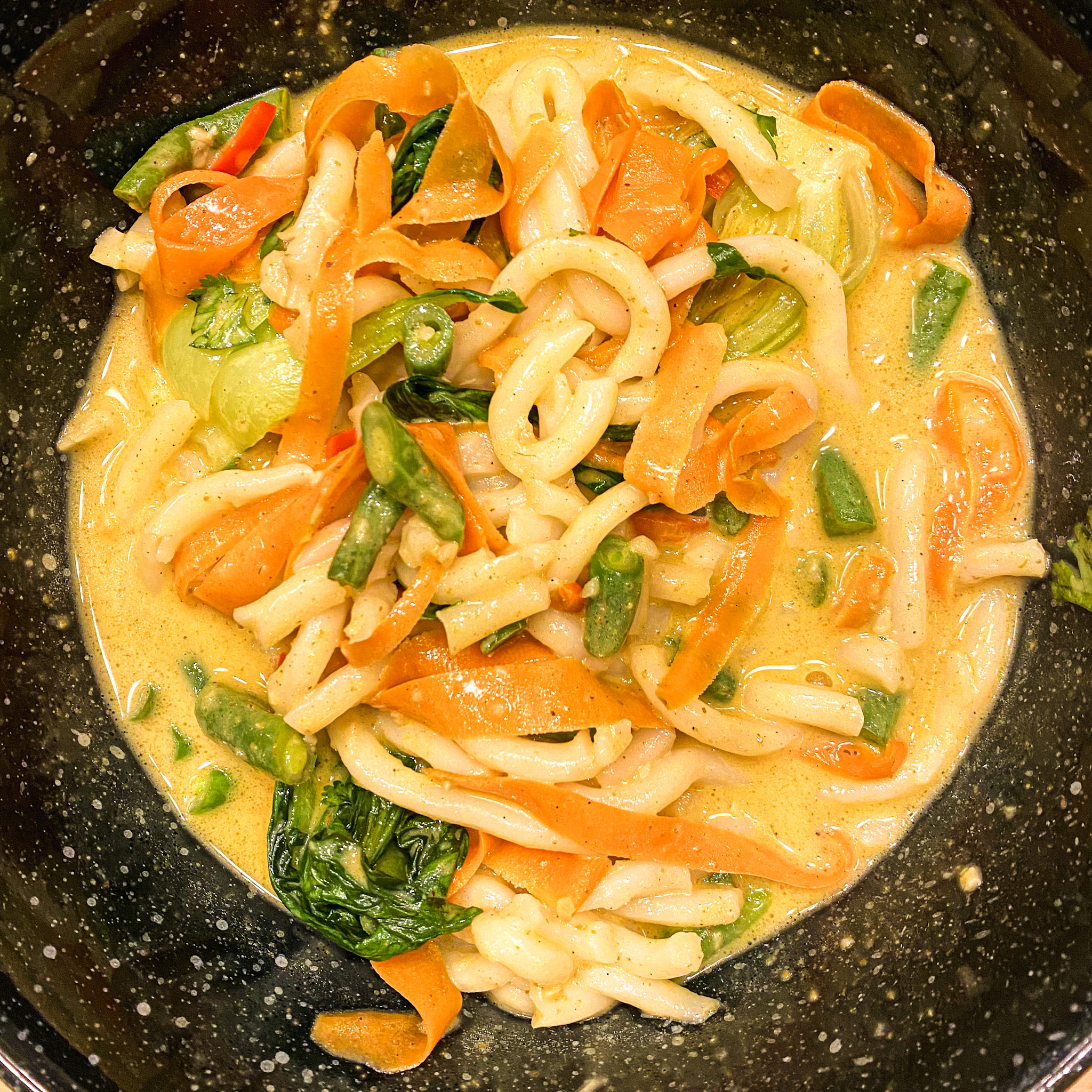 Coconut Curry & Noodles
This dish takes the Brick Lane Takeaway blend into a whole new flavour profile. It's creamy and yet, light. And it's a fabulous dish to serve if you have any plant-based folks at your table. We were thrilled by how this blend tasted with a bit of soy sauce and sriracha.
So rich in flavour, it's a fabulous dish to serve if you have any plant-based folks at your table! And there's no reason that you can't serve this dish cold. It's equally tasty served either way and a great option to have in your repertoire.
In fact, you might want to make a double batch of the sauce. It's great with the veggies and noodles, but it would also be fantastic to sauce up a white fish or chicken breast!
INGREDIENTS
Sauce
1 ½ TBSP Vegetable Oil
3-4 Cloves of Garlic
1-2 Sweet Red Chilies, thinly sliced
1 – 2 cm of Ginger, fresh and finely grated
2 ½  tsp Brick Lane Takeaway
1 ½ Tbsp Soy Sauce
1  Tbsp Sriracha
400 g Coconut Milk, canned
Stir Fry
2 tsp Sesame Oil
3 Bak Choi, each sliced into 2 pieces250 – 300 g Green Beans, chopped into small pieces
2 – 3 Carrots, sliced using a peeler to create long ribbons
2 packages of Udon Noodles,
2-3 Tbsp Chopped Cilantro
Nuts *Optional Garnish
100 g Cashews, unsalted/unroasted and slightly crushed into pieces
1 tsp Soy Sauce
1 tsp Maple Syrup
METHOD
If using, prep the nuts first. Heat the oven to 200, mix the crushed nuts, soy sauce and maple syrup in a bowl to coat, then spread on a lined baking sheet. Roast for 8 minutes, then turn and continue roasting for another 6-7 minutes. Set aside when done.
In a large saucepan on medium heat, combine the oil, garlic, ginger and chilli peppers and cook for 3-4 minutes. Add the Brick Lane Takeaway and stir to distribute the spice blend evenly.
Add the soy sauce and sriracha and stir again. Reduce the heat to a simmer and add the coconut milk. Stir to combine and break up any solids of the coconut milk.
In a large frying pan (or stirfry pan, if you have one) on medium heat, add the sesame oil and the bok choy (cut side down). Cook for about 2-3 minutes, then add the carrots and green beans. Lastly, add the packages of Udon noodles and mix everything well. (The noodles will start to separate once they are warmed up.)
Add the sauce to the vegetables, combining with the veg and noodles. Serve warm in a bowl with chopped cilantro and baked cashews as garnish.