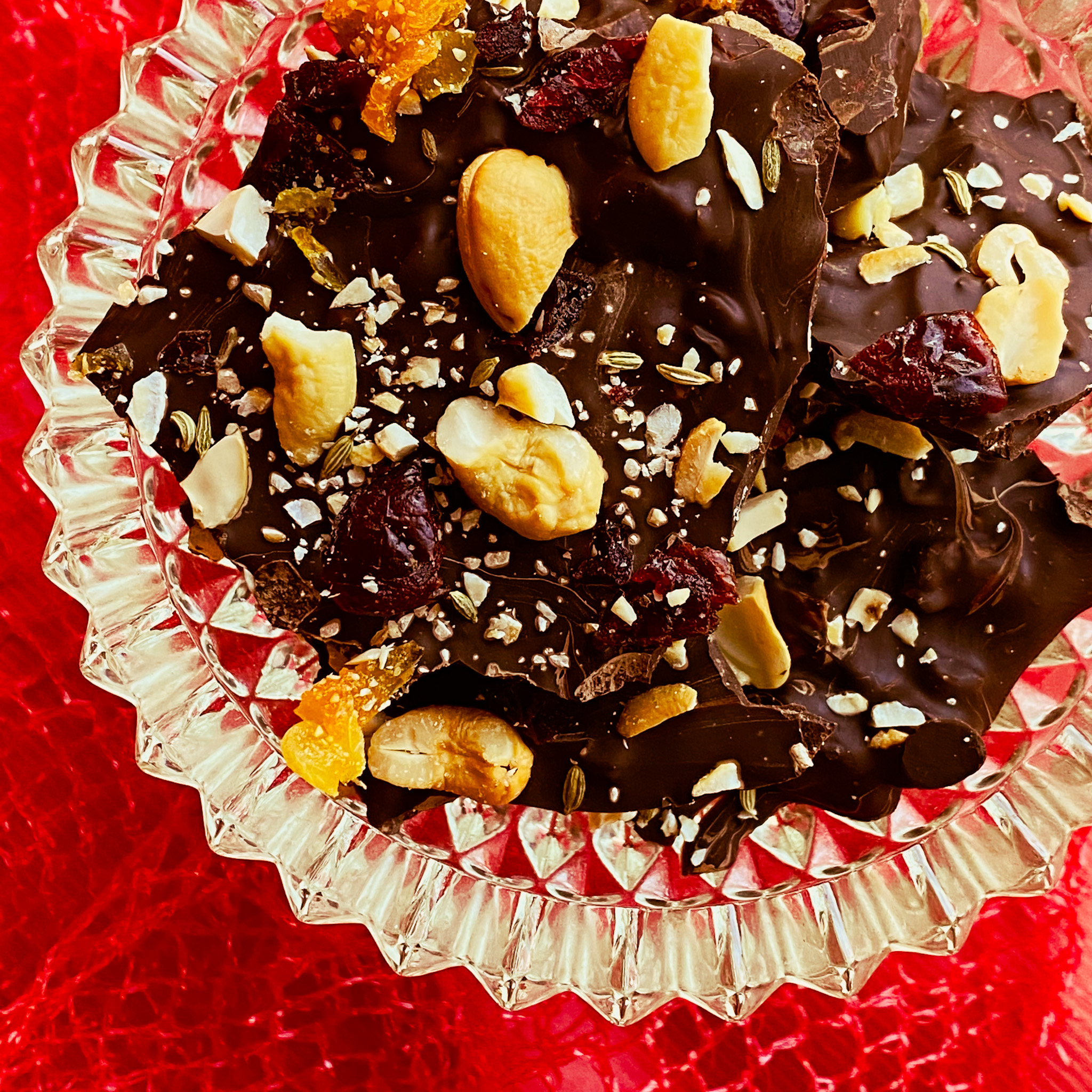 Chocolate Fennel Bark
So pretty! And so tasteful! This luxurious treat is such a pleasure to serve at any holiday party! It's a little bit decadent but even just a nibble is incredibly satisfying. Pre-make a double-batch (or triple) and package it up as little gifts for your loved ones to enjoy.
INGREDIENTS
1 tsp Fennel seed, ground
½ tsp Fennel seed, whole
⅓ C Dried Cranberries or Dried Cherries, coarsely chopped
¼ C Cashews, roasted, salted and coarsely chopped
170 g Bittersweet Chocolate (not unsweetened), chopped into pieces. (Look for a premium-quality of chocolate for the best results)
DIRECTIONS
Line a baking sheet with foil. Set aside. (Ideally, you want to place it in the freezer or fridge to chill.)
Combine the chopped dried berries, chopped apricot and chopped nuts in a bowl.
Using a double-boiler (or a makeshift double-boiler like this) melt the chocolate on medium heat. Once it's all melted, stir in the ground fennel and half of the berry-nut-apricot mixture.
Using a spatula, remove the chocolate from the double-boiler (pot or bowl) and spread it out on the baking sheet. (Not too thin, but not too thick either)
Sprinkle over top with remaining berry-nut-apricot mixture and finish with whole fennel seeds.
Place in the fridge or freezer for a minimum of 30 minutes to chill. Once cooled, break into rough pieces and serve. (
This keeps best in the fridge, freezer or a cool place.