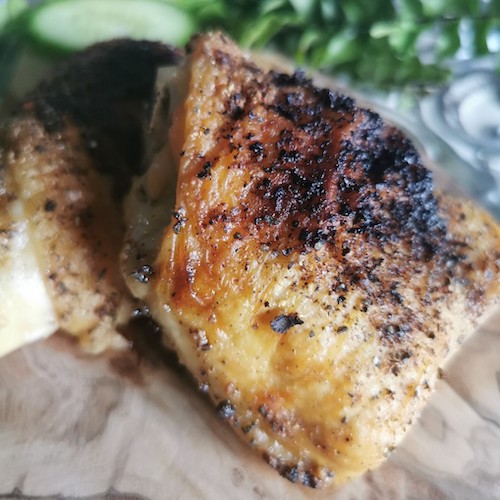 Cardamom Oven Fried Chicken
This chicken recipe is so uncomplicated, but the flavour that comes together is like a little homemade magic!
The method high temp oven results in a beautiful crispy chicken skin while the meat stays so tender and juicy.
Be sure to add this to your quick weeknight dinner roster.  The flavour combination of salt, pepper, butter and cardamom will make your taste buds dance and take your ordinary chicken to the next level.  This could easily be cooked in an air fryer as well, with excellent (even quicker) results!
INGREDIENTS
6 Skin-on, bone-in chicken thighs
1 tsp Cardamom crushed
1 tsp fresh ground pepper
1 tsp coarse ground sea salt
2 Tbsp soft butter
DIRECTIONS
Preheat oven to 450 and l

ine a baking sheet with foil or parchment paper as prep.
Pat chicken dry with a paper towel. (This will help to ensure crispy skin.)
In a bowl, combine the crushed cardamom, salt and pepper with the softened butter and then smear the seasoned butter on the skin of the chicken thighs.
Place the chicken, skin-side up on the baking sheet and bake for 25-30 minutes, or until the internal temperature of the chicken is 165.
Remove from oven and serve.