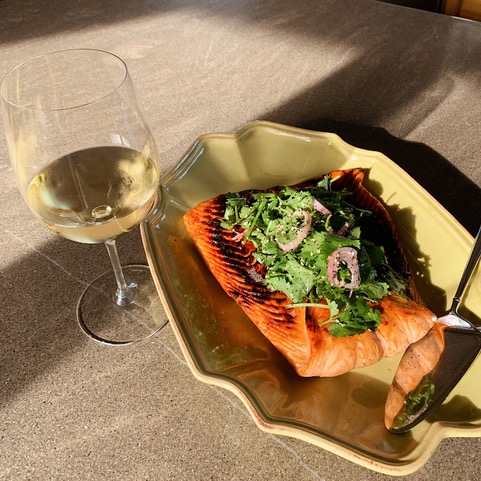 Caramelized Salmon Tossed with Sesame & Cilantro Salad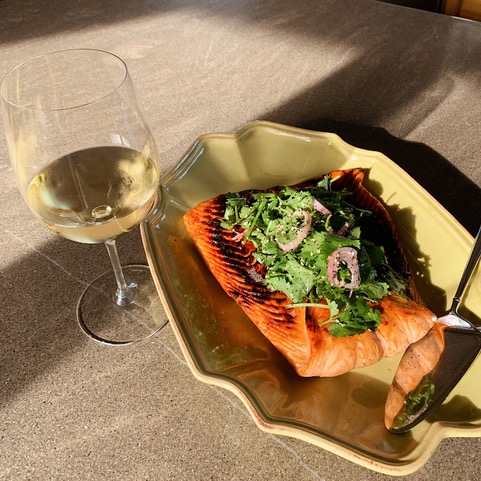 Here's a quick broiler salmon dish that delights the palette with its salty, sweet and sour flavours. Flav-O-Matic adds sesame and a touch of garlic and onion which lifts the sesame oil and rice wine vinegar to new heights. This vibrant dish is super easy to make and outrageously healthy. We've become a bit addicted to this recipe.
Serves: 4
Active time: 20 minutes; Marinating time: 20 minutes
Ingredients
3 Tbsp soy sauce (low sodium preferred)
3 Tbsp honey or light brown sugar
5 Tbsp rice wine vinegar (unseasoned) – divided
Kosher salt and ground black pepper
1 salmon fillet, approximately 1.5 lbs, at least 1-inch thick, skin on preferred
3 Tbsp Flav-o-Matic spice blend
2 small shallots, thinly sliced into rings
3 cups cilantro, parsley or both, tender leaves and stems
2 Tbsp toasted sesame oil
Instructions
Combine soy sauce, honey and 3 Tbsp rice wine vinegar in a wide, shallow bowl (or small baking dish) and season with salt and plenty of black pepper. Place salmon skin-side up in the marinade and let sit for at least 20 minutes, or up to 2 hours.
Toss shallot rings with remaining 2 Tbsp rice wine vinegar in a medium bowl and season with salt and pepper. Let sit for 5 minutes to lightly pickle, then add the Flav-O-Matic, cilantro and sesame oil and toss to combine.
Place a rack in the top third of the oven and heat the broiler.
Place salmon skin-side up on a foil-lined baking sheet; discard the marinade. Transfer to oven and broil until the salmon is cooked through and the skin is bubbling and lightly crisped, 5 to 7 minutes.
Transfer salmon to a large serving platter and spoon the remaining marinade from the sheet pan over the fillets. Top with sesame and herb salad and serve.