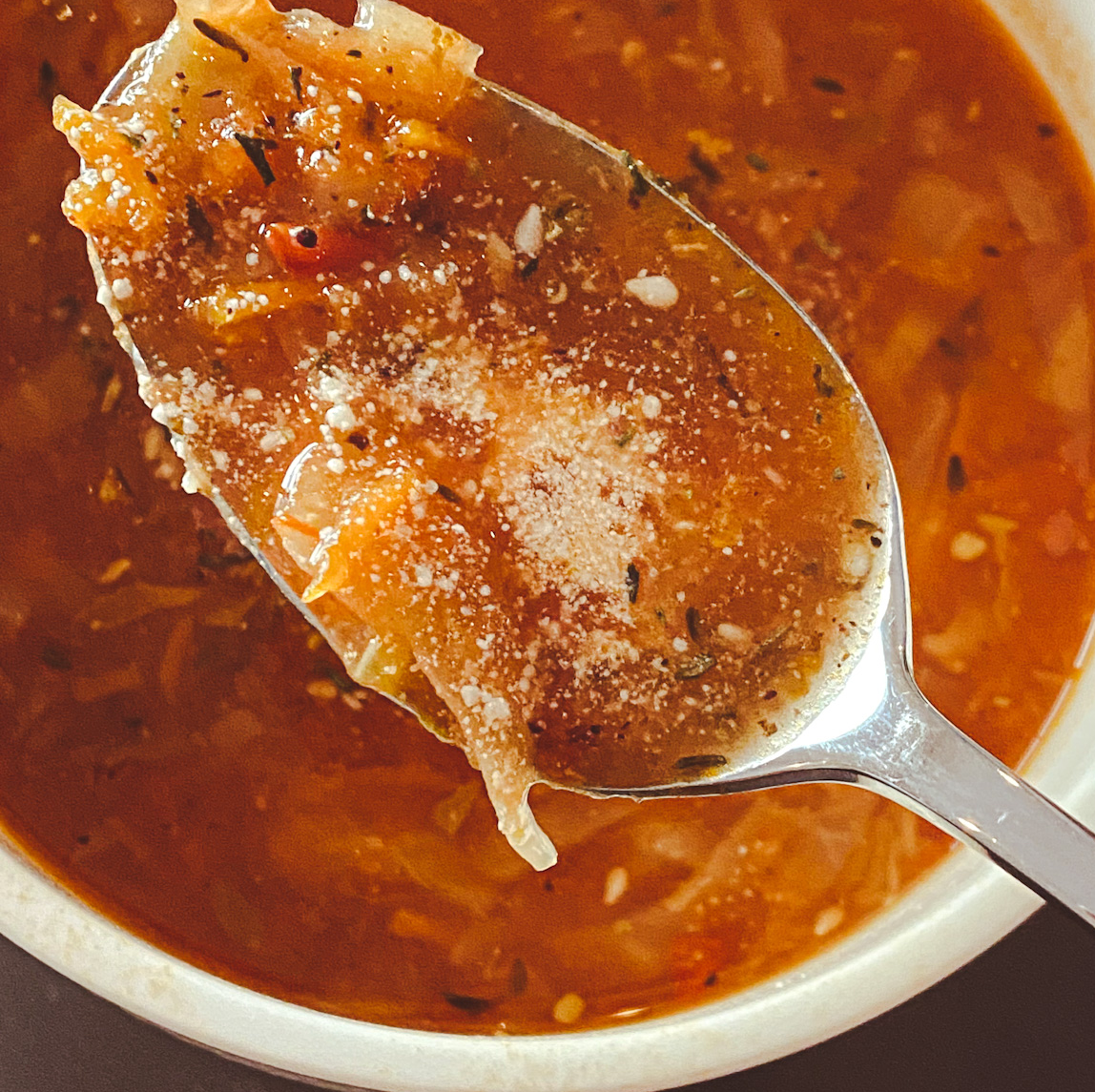 Cabbage Soup with Bad'Az Za'atar
This simple yet soul-satisfying meal in a bowl has been my 'go-to' soup for the past few weeks. After a good friend ranted about how tasty it was, I thought I had to try it. And sure enough, I've made 3 batches of it since, testing out a few variations.  Everyone who has tried it would agree; it's really delicious. It strikes a balance of wholesome goodness and rich umami flavour that works well with meat (both chicken and stewing beef passed the test with flying colours) or as a plant-based dish. What's even better is the recipe is a kind of 'Non-recipe' recipe in as much that if you want to adjust some of the ingredients or leave some out, it always seems to turn out.
INGREDIENTS
1 TBSP Olive Oil
454 – 500 grams of Stewing Beef or Chicken *Optional
1 Onion, chopped finely
3-4 Celery Stalks, chopped
2 large Carrots chopped
1-2 Garlic Cloves, chopped or minced
½ medium-sized head of Cabbage, chopped
2 cans (398 g) of Tomatoes, finely chopped
1 Litre of Chicken or Vegetable Broth (plus some additional dried or concentrated soup mix)
3 TBSP Bad'Az Za'atar
1 ½ TBSP Lemon or vinegar
2 tsp Sugar
Salt and Pepper to taste
Garnish with finely grated Parmesan
DIRECTIONS
If using the meat, brown it first either in a large pot on the stovetop or in an Instant Pot (set to saute with a bit of olive oil). Remove from heat and set aside.
Add a bit more olive oil, then saute the onions, celery and carrots for 3-5 minutes, stirring regularly. Add the garlic for an additional 2-3 minutes.
Add the cabbage, vinegar or lemon juice, sugar and Bad'Az Za'atar. Stir well, then add the tomato, broth and additional soup mix.
If using the Instant Pot, set to soup or manual for 20 minutes. If cooking on the stovetop, cover and leave on medium for 25-30 minutes.
Taste and season with a bit of pepper and salt, if needed. Serve warm with a garnish of finely grated Parmesan or a dollop of sour cream.
Keeps well in the fridge for 5 days or in the freezer for 3 months.