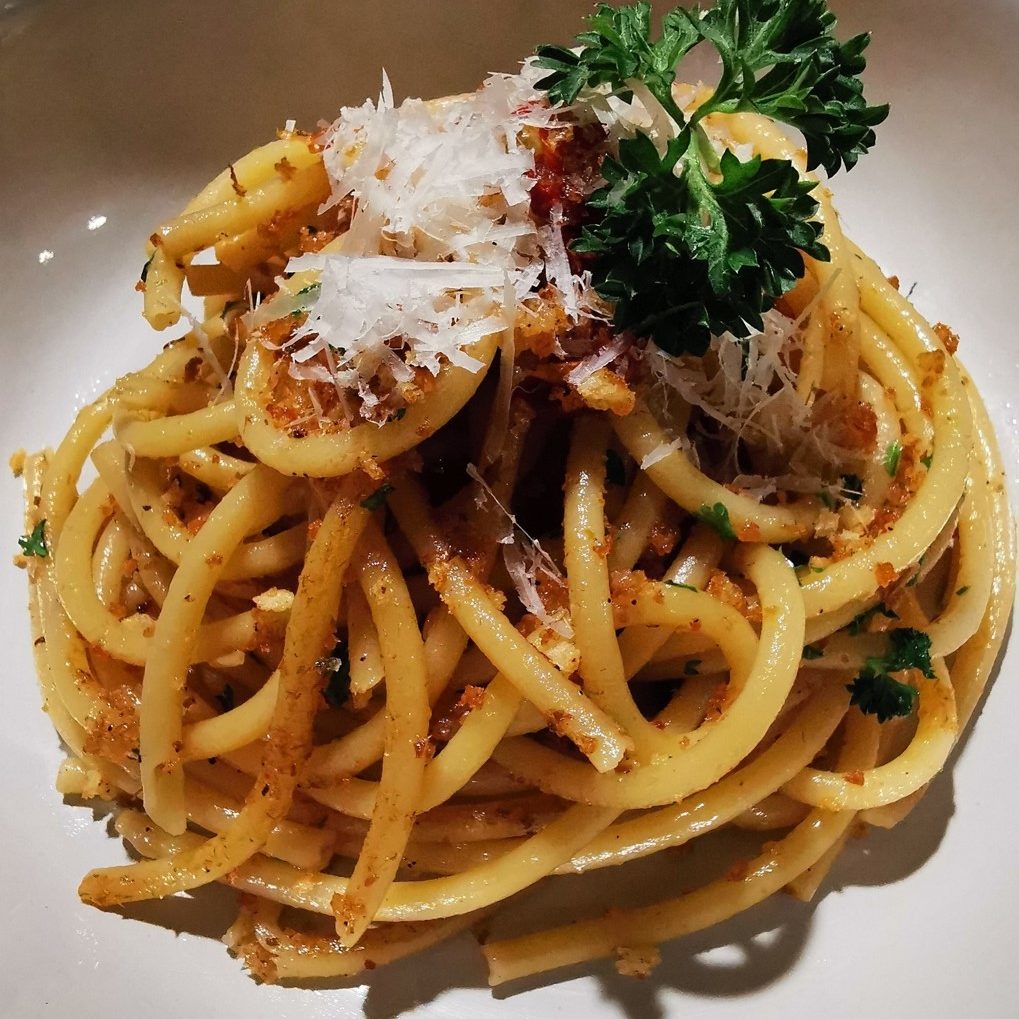 Bucatini with Anchovies and Fennel
When someone asks, "what do you like on your pizza"?  A most common reply is "Anything BUT anchovies!!!"  Often because we associate anchovies with such a fishy, pungent flavour.
Well, the use of anchovies in this recipe doesn't taste fishy at all!  They add a salty sort of umami boost of flavour that tastes like you've been cooking for hours to achieve.  But this recipe goes from stovetop to table in under an hour!  The addition of fennel seeds adds warm pops of flavour that add to the umami! You can use any greens you have on hand, arugula, kale would work just as well as the spinach called for in the recipe.
Bucatini with Anchovies and Fennel with seasoned bread crumb
2 Cups Bread crumb
8 Garlic cloves, crushed and divided in half
1 Tsp Fennel Seed, ground
1 tsp Lemon zest, freshly grated
Black Pepper and Kosher Salt to taste
1 12oz pkg Bucatini (other pasta also works, if you prefer spaghetti or fettucini)
4 Cups Fresh Baby

Spinach

1/4 Cup Olive oil + 3 Tbsp
1 50g Tin of anchovies
¼ Cup Sundried Tomato Slices, drained from their oil
2 Tbsp Capers
2 tsp Fennel Seed (whole)
1 Tbsp Lemon juice, freshly squeezed
50 g Parmesan, grated
4 Tbsp Butter
¼ Cup Parsley, most finely chopped, with a few pieces kept as garnish
METHOD
In a bowl, combine bread crumbs, lemon zest, 4 cloves of crushed garlic, ground fennel seed, salt and pepper. Set aside.
Heat ¼ cup olive oil in a heavy-bottomed pot, over medium heat; add bread crumb mixture and cook, stirring often until toasted, golden brown (about 5 minutes). Transfer mixture to a bowl and set aside, too.
Heat the remaining 2 tablespoons of olive oil in the same pan over medium/low heat. Add the remaining 4 cloves of crushed garlic, and 2 tsp of fennel fronds and cook for about 1 minute.  Add anchovies and cook, smooshing with the back of a spoon to create a paste. Add sundried tomatoes, capers, and

spinach

 and cook until wilted.  Add lemon juice and stir.
Meanwhile, cook pasta in salted, boiling water, but remove from the water about 2-3 minutes less than package directions, until very al dente. (Don't dump the pasta water yet!)
Using tongs, place pasta in the saucepot, along with 1 cup of the pasta water.  Toss and continue to cook until the pasta is to your liking.
Add a few tablespoons of pasta water to the pasta and slowly add the grated cheese, tossing until melted.
Remove from heat, and add butter, parsley, and half of the bread crumb mixture.  Toss until butter is melted.  (If the mixture seems too dry, add some additional pasta water and olive oil, a little at a time.)
Season with salt and pepper, plate warm and top with remaining bread crumb mixture and parsley garnish to serve.