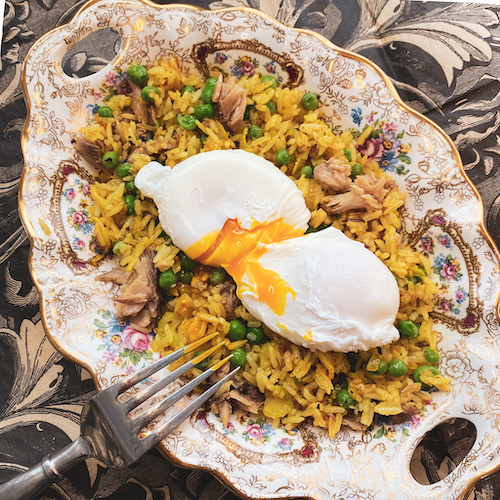 Brick Lane Kedgeree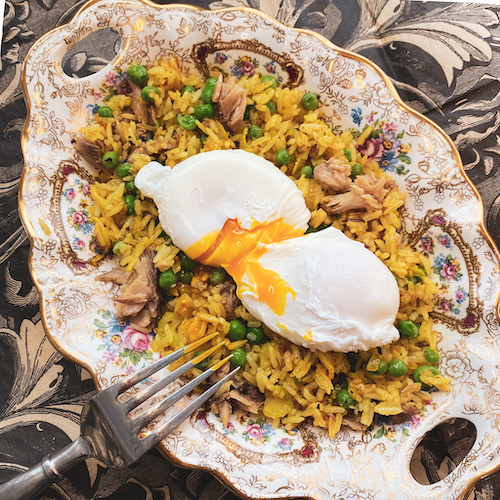 Fish and rice for breakfast? Why not?
Add some Brick Lane Takeaway (curry spice blend) and a poached egg or two, and – BOOM – it's a quintessential English breakfast!
It's warming and filling and oh, so very delicious. Make a double-batch to have it as a late-night snack. (It turns out to be pretty tasty any time of day).
INGREDIENTS
4 Eggs (either poached or soft-boiled)
1 Tbsp Sunflower oil
1 C White rice (ideally basmati)
1 Small Onion, finely chopped
1 Stalk of Celery, finely chopped
½ C Peas (frozen or fresh, not canned)
250 g – 300 g Smoked Fish (Choose from Smoked Haddock, smoked salmon, smoked mackerel, smoked trout)
3 Tbsp heavy cream (35%)
2 ½ tsp Brick Lane Takeaway (curry powder)
½ Cup peas (frozen or fresh, not canned)
½ lemon (squeezed)
Freshly ground pepper
1 Tbsp Chopped parsley & coriander
½ Lemon cup into wedges
DIRECTIONS
Cook the rice, according to directions.
In a small pot, cook eggs (either hardboil or prep to poach).
While rice is cooking, heat the oil over medium heat, and gently cook the onion (3-4 minutes) and celery until they become translucent. Add the Brick Lane Takeaway stirring and cooking it with the onions. Reduce the heat to medium-low.
Add the cooked rice, and stir to mix in the spiced onion and oil.
Pull the fish apart into small pieces – then add it to the rice and mix. Add peas (optional). Taste and add pepper and a bit more spice, if you prefer a stronger curry flavour.
Finish cooking or prepping eggs (either poaching or peeling soft-boiled eggs).
Transfer rice to a serving dish, add eggs and chopped fresh parsley and/or coriander and serve with lemon wedges.