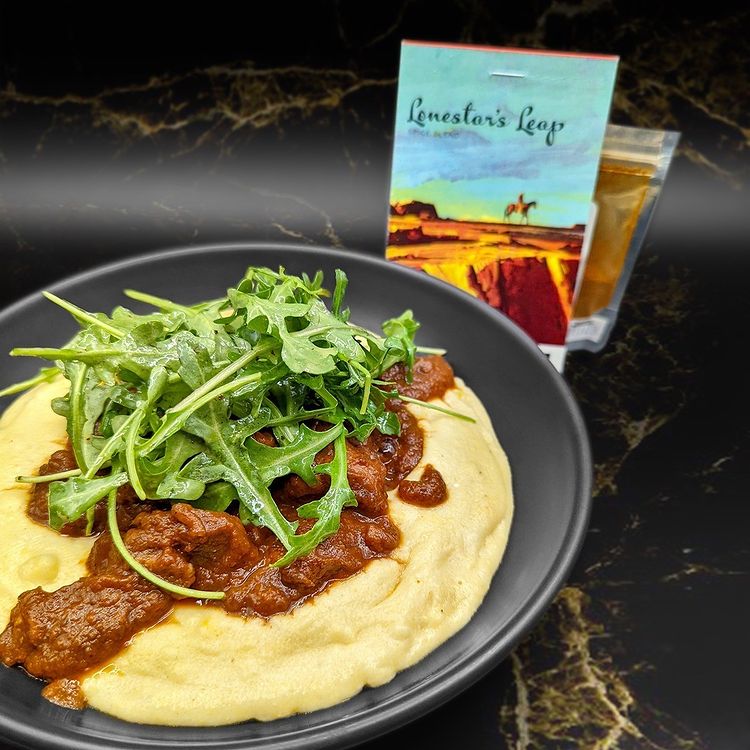 Braised Lamb Shoulder with Lonestar's Leap Mole
A rich lamb stew with smokey notes and many layers of flavour. Cinnamon, coffee and cocoa together with a subtle underlying smokey heat really make this dish quite special!
Serve it with mashed potatoes, polenta or on a bed of rice!
Ingredients 
1200 grams Lamb Shoulder, boneless and cut into 1" inch cubes

2 Tbsp Oil (use a neutral oil with a high-smoke point like grapeseed, canola or avocado oil)

3 Carrots, peeled and finely diced

3 Celery Stalks, finely diced

2-3 Onions, yellow and finely diced

10 Garlic Cloves, minced

3 Fresno chillies, minced with seeds *Optional, and here are substitute recommendations if Fresnos aren't available at your grocer

4 tbsp Lonestar's Leap spice blend, divided

1 Tbsp Cocoa Powder

1 Can (5.5 fl oz) Tomato Paste

½ Cup Coffee, strong brewed

½ Cup Sherry Vinegar

4 Cups Beef Broth, unsalted

Kosher Salt & Black Pepper to taste
Directions
Toss cubed lamb shoulder in kosher salt and black pepper liberally.

In a 5 qt dutch oven set over medium-high heat, add the oil & sear the lamb in batches until golden brown all over. About 5 minutes per batch. Transfer to plate or bowl, toss with 1.5 tbsp of the Lonestar's Leap spice blend and set aside.

Preheat your oven to 300°F / 150 °C.

Add the carrots, celery and yellow onions to the dutch oven with the remaining oil and lamb fat. Cook, stirring occasionally until carrots and celery are softened, and onions are translucent. About 5-7 minutes. 

Add the garlic, chillies, the remaining 2.5 tbsp of the Lonestar's Leap spice blend plus the cocoa powder to the dutch oven. Stir to combine and cook until fragrant. About 1-2 minutes.

Push the vegetable to the edges to create a well in the middle of the dutch oven. Add the tomato paste and cook stirring frequently until a deep amber colour develops. About 3 minutes.

Toss the vegetables in the ambered tomato paste to incorporate then add the coffee & sherry vinegar to the dutch oven scraping the bottom to get all the brown bits off.

Add the beef broth along with the lamb back to the dutch oven. Bring to a simmer and taste, adding more kosher salt, if needed. 

Once simmering, cover the dutch oven and transfer to the preheated oven for 2 hours.

Remove the dutch oven from the oven and using a slotted spoon, lift out the lamb cubes. Using an immersion blender, blend the sauce until silky smooth (Alternatively, transfer sauce to a high-speed blender). Add the lamb cubes back to the sauce.

Place the dutch oven, uncovered, back into the oven. Cook for 45 minutes to 1 hour until slightly thickened. (It should coat the back of a spoon.)
Serve on top of creamy polenta with blue cheese, mashed potatoes or rice and garnish with fresh herbs or a lightly dressed arugula.
Serves 4
Recipe and photo credit, with thanks @ambrewzia 🙂