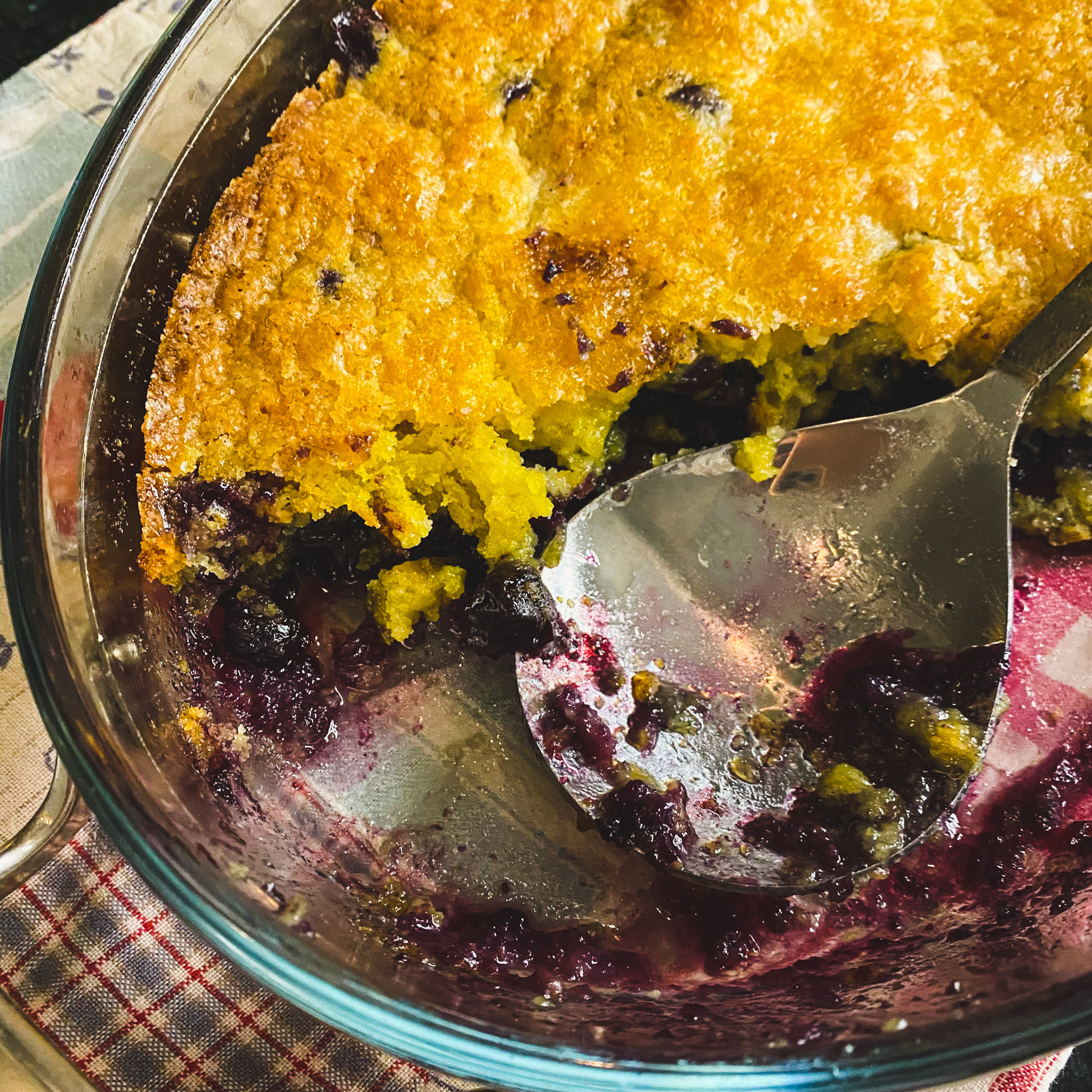 Blueberry Cobbler with Lavender
This is one of my favourite dessert recipes to make when guests are coming. Its flavour is so delicious without being too sweet. And it has a kind of nonchalant presentation to it that makes it like the dessert equivalent of under-promise and over-deliver. I love making it with fresh blueberries, but frozen work well, too. And, the prep involved only takes a few minutes.
INGREDIENTS
4-6 Cups of Blueberries (ideally fresh, but frozen works if blueberries aren't in season)
1 ½ Cups of Sugar (1 Cup for the batter / ½ Cup for the berries)
2 Sticks (227 g) of Unsalted Butter, cold and cut into cubes (plus some for greasing the dish)
1 Cup of All-Purpose Flour
1 tsp of Baking Powder
2 Pinches of Salt
2 Eggs, ideally room temperature
2 tsp Culinary Lavender Buds
Lemon Zest (a few scrapes, no more than half the zest of 1 lemon)
1 tsp Vanilla Extract
DIRECTIONS
Set your oven to pre-heat to 375° and prep an 8 – 9 inch pan or oven-proof dish (round, square or oval) greasing it with a little bit of butter.
Combine a tablespoon of sugar and the lavender buds in a pestle and mortar and grind together. Mix together with more sugar to a total of a half cup. Add the lemon zest and toss together with the blueberries. Place the berry mixture in the prepared pan or dish.
Using a food processor, combine the remaining 1 cup of sugar with the flour, baking powder and salt with a couple of short pulses. Add the cold butter and process at high speed for a few seconds (it will start to look like crumbs when it's ready).
In a mid-sized bowl, gently beat the egg and vanilla together with a fork or whisk. Then add the flour-sugar-butter mix to the eggs and blend by hand. Drop dollops of the batter on the blueberries to cover the top. (Don't worry about spreading it, it will cover the top while baking.)
Bake for 40-45 minutes, using a toothpick to make sure it's baked through. Serve warm on its own or with cream, whipped cream or ice cream.
*This recipe also works without adding lavender and lemon zest if you don't have them on hand.