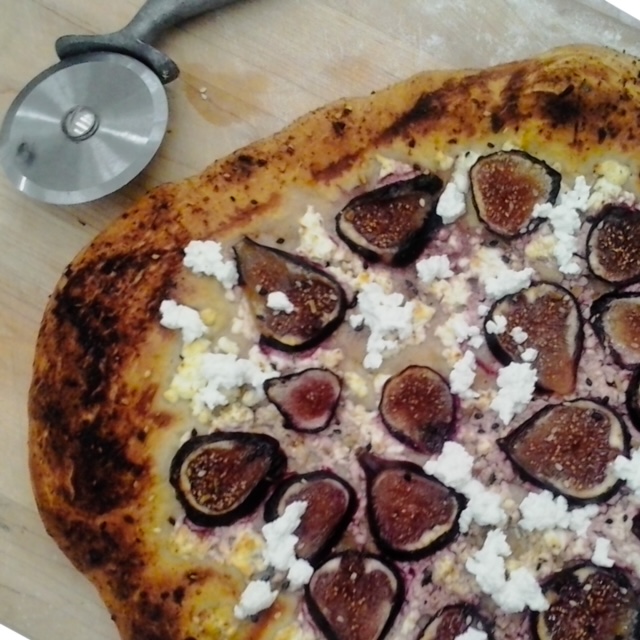 BLUE DUKE'D FIG & COTTAGE CHEESE FLATBREAD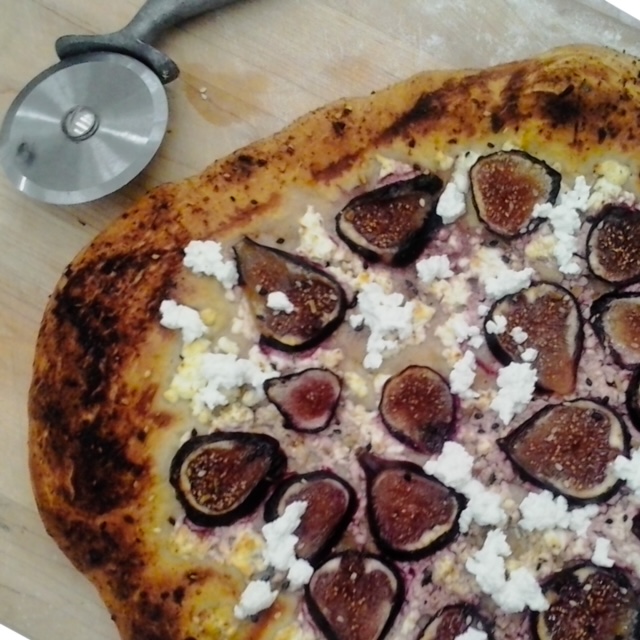 The dough for this crispy pizza crust can be ready in as little as 3 hours, or you can let it rest in the refrigerator for  8 to 24-hours for a more complex flavoured, artisanal pizza crust. And if you are running short of time, pick up a ready-made pizza crust at the store!
INGREDIENTS – Dough
1 Cup / 150 g type 00 flour (It's best to use type "00" pizza or bread flour, but all-purpose will work.)
¾ Cup / 112 g bread or all-purpose flour
¼ Cup / 38 g whole wheat flour
1 tsp / 2 g active dry yeast
1 Cup / 236 g warm water
1 Tbsp / 13.5 g extra-virgin olive oil
18 g / 1 Tbsp salt
INGREDIENTS – Topping
2 Tbsp / 27 g  Extra virgin olive oil
1 Tbsp / 20 g plus 2 tsp / 12 g Blue Duke
6-8 Figs (sliced ½ cm thick)
1 Cup / 200-300 g Cottage cheese (if wet wring dry)
1 Tbsp Honey (liquid is best)
A handful of Arugula, to serve
DIRECTIONS
In a small pan, heat 2 tbsp of the oil. Add 1 Tbsp of the Blue Duke spice blend and remove from heat. Let sit.
In the bowl of a mixer or medium-sized bowl, whisk the flour and yeast together, add room-temperature water and oil and stir with a wooden spoon until shaggy and no dry flour remains. (For optimal results, weigh the flour and water.)
Cover the bowl with a dishtowel and let sit for 10 minutes.
Sprinkle on the salt and mix thoroughly. Cover the bowl again and let rest for 20 minutes.
Mix on medium speed for roughly 10 minutes or by hand until the dough is soft and silky.
For the 3-hour dough, lightly brush the top of the dough with olive oil, cover with a dish towel and let rise in a warm room for approximately 2 hours, proceed to the next step. For a deeper flavour and texture, lightly brush the dough and a bowl with olive oil to prevent sticking, cover with an airtight lid or wrap and refrigerate for 8 -12 hours or up to 24 hours.
Half an hour before cooking, place a pizza stone or steel on a low positioned oven rack and preheat to as high a temperature that your oven will go. If using a regular baking sheet, preheat to 450° F.
Strain the cottage cheese or wring gently in cheesecloth (if you don't have cheesecloth, a clean dishcloth or a strong paper towel also works).
On a sheet of parchment paper, shape or roll out the dough as close to ¼ inch thick as you can.
With your fingers or a brush, spread the Blue Duke seasoned oil all over the surface of the shaped dough.
Reserving ¼ cup, evenly distribute the crumbled cottage cheese on the dough, lay the sliced figs on top of the cottage cheese, keeping some aside for garnish. Drizzle with honey and sprinkle Blue Duke, reserving a generous pinch to season fresh.
Slide the parchment and dough onto the stone or steel and bake until done, approximately 10 minutes or 20 minutes on a baking sheet. 
Transfer the flatbread to a cutting board, top with the remaining cottage cheese, freshly sliced figs, arugula and a final sprinkle of Blue Duke.
Slice and serve warm.