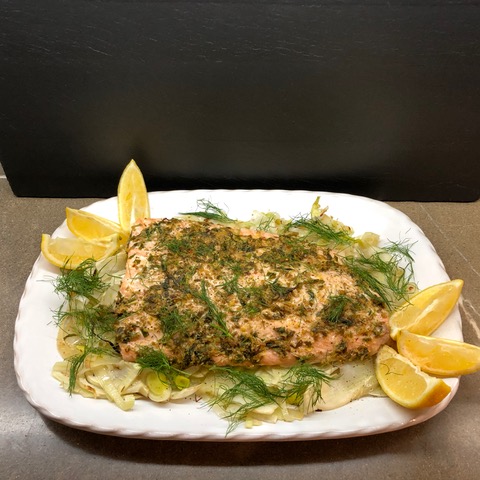 Baked Fennel & Tarragon-Crusted Salmon with Fennel and Leeks
This is a simple and beautiful dish that is quick enough for a mid-week dinner and fancy enough for an elegant dinner party. And, as a bonus, it only requires 1 pan! (Pescatarian, keto, paleo, gluten free!).
Serves: 4- 6 people
Time: Prep: 10 mins; Cook Time: 20 mins
Ingredients
2 fennel bulbs (washed, sliced very thin, reserve fronds)
2 leeks (washed thoroughly, sliced thin)
2 Tbsp (30 ml) olive oil
5 tsp fennel seeds, crushed (divided)
1/2 tsp chilli flakes (divided)
Salt and pepper (to taste)
4 Tbsp (1/4 cup) butter
2 Tbsp (30 ml) chopped fresh tarragon
Lemon peel, grated from 1 lemon
1 Tbsp (15 ml) fresh lemon juice
1.5 lb salmon fillet (680 g)
Lemons for garnish
Preheat the oven to 350°F (177°C).
Place sliced leeks and fennel into a bowl. Drizzle with 2 Tbsp of olive oil and season with 1 tsp fennel seeds, ¼ tsp chilli flakes, and salt and pepper. Toss well. Place veggies on a cookie sheet and bake in preheated oven for 10 mins.
While the veggies cook, put the butter, chopped tarragon,4 tsp fennel seeds, ¼ tsp chilli flakes. lemon peel and lemon juice in small saucepan over low heat until butter melts. Season with salt and pepper.
Remove cookie sheet from oven. Increase the temperature of the oven to 450°F (232°C).
Put salmon fillet on top of fennel & leeks. Brush butter mixture over salmon.
Return pan to oven bake for 10 – 12 mins.
Garnish with fennel fronds and lemon slices.