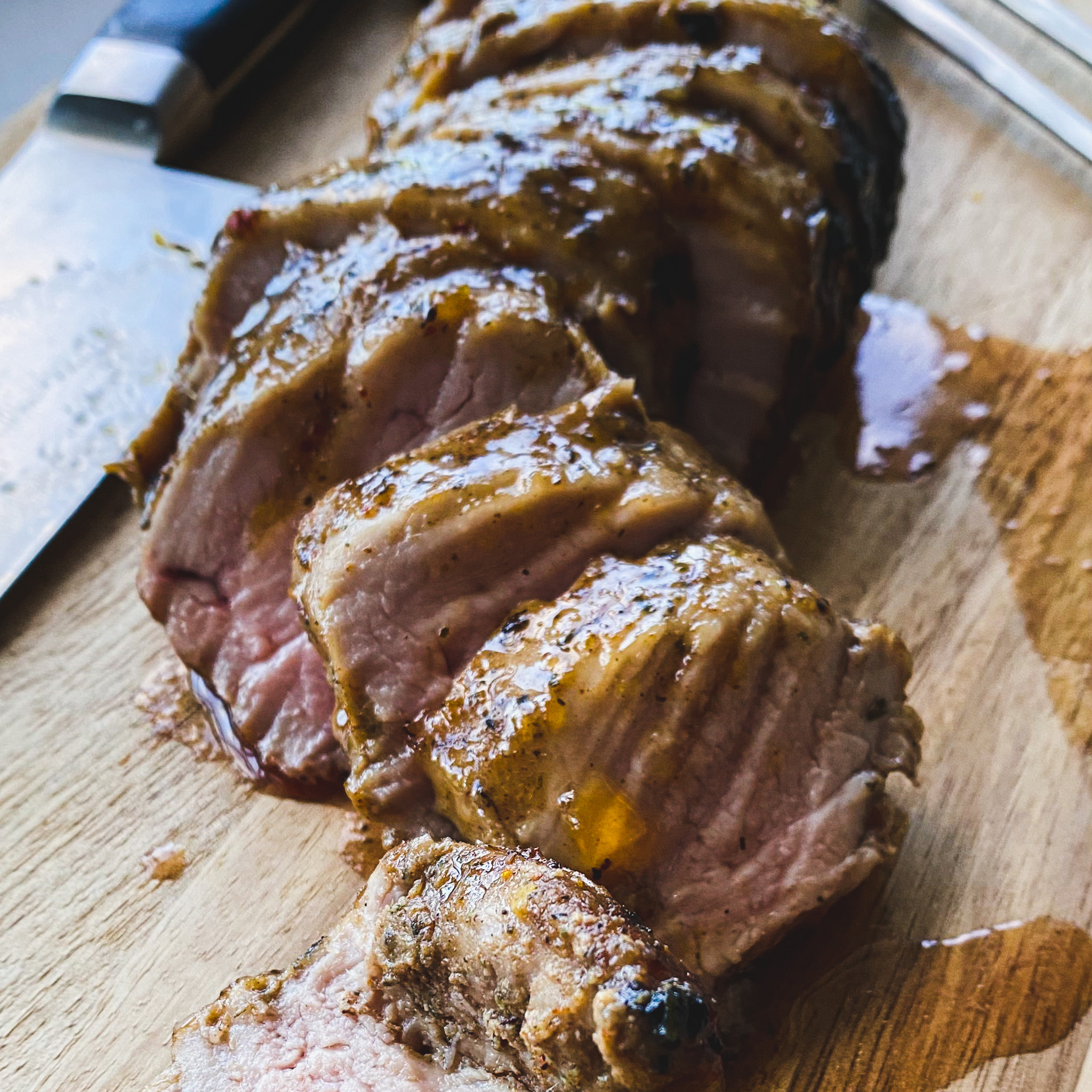 Apricot Glazed Jerk Pork Tenderloin
Sometimes combining unexpected flavours can produce such fantastic results. That's certainly the case with the recipe for pork tenderloin. 
Make the marinade ahead of time, and let it sit in the fridge for a few hours (or overnight). And the prep and cooking time requires very little involvement, which is ideal for either a weeknight dinner or even a weekend dinner with friends. And the leftovers (if there are any) are fantastic in a sandwich or a wrap.
One pork tenderloin is typically good for a meal for two people, but pork tenderloin is often sold with two pieces, so double the marinade and glaze if needed. Or make one to cook (right away) and one to freeze )=(already in the marinade).
INGREDIENTS
Marinade
3 Cloves of Garlic, large/minced

3 Scallions, chopped finely

2 Tbsp Brown Sugar

1 Tbsp Canola Oil

1 Tbsp Kosher Salt

2 tsp Offbeat Jerk

¼ Cup Lime Juice

1 Pork Tenderloin
Glaze
3 -4 Tbsp Apricot Preserve

¼ Cup Lemon Juice (plus the Zest of ½ a Lemon)

Water, as needed for consistency
DIRECTIONS
Combine the first 7 ingredients using a food processor or Magic Bullet.

Coat the pork in the marinade and let sit for a few hours in the fridge or overnight.

Pre-heat the oven to 400° and line a pan with foil or a Silpat baking sheet (Or heat grill)

Roast the tenderloin until the internal temperature is 145° (appx. 25-30 minutes), then using a broiler, brown it for a few minutes to give the outside some tasty charred bits.

While the tenderloin is baking, heat the apricot preserve with lemon juice and water on the stove in a small pan. Stir it until the consistency is spreadable without being too watery.

Remove the tenderloin from the oven, brush with the apricot-lemon mixture and leave it to sit for 5 minutes. Slice and serve warm with juices from the pan and additional apricot glaze for presentation.
To make a sandwich with the leftovers, combine a bit of mayo with the apricot-lemon mixture as a spread.