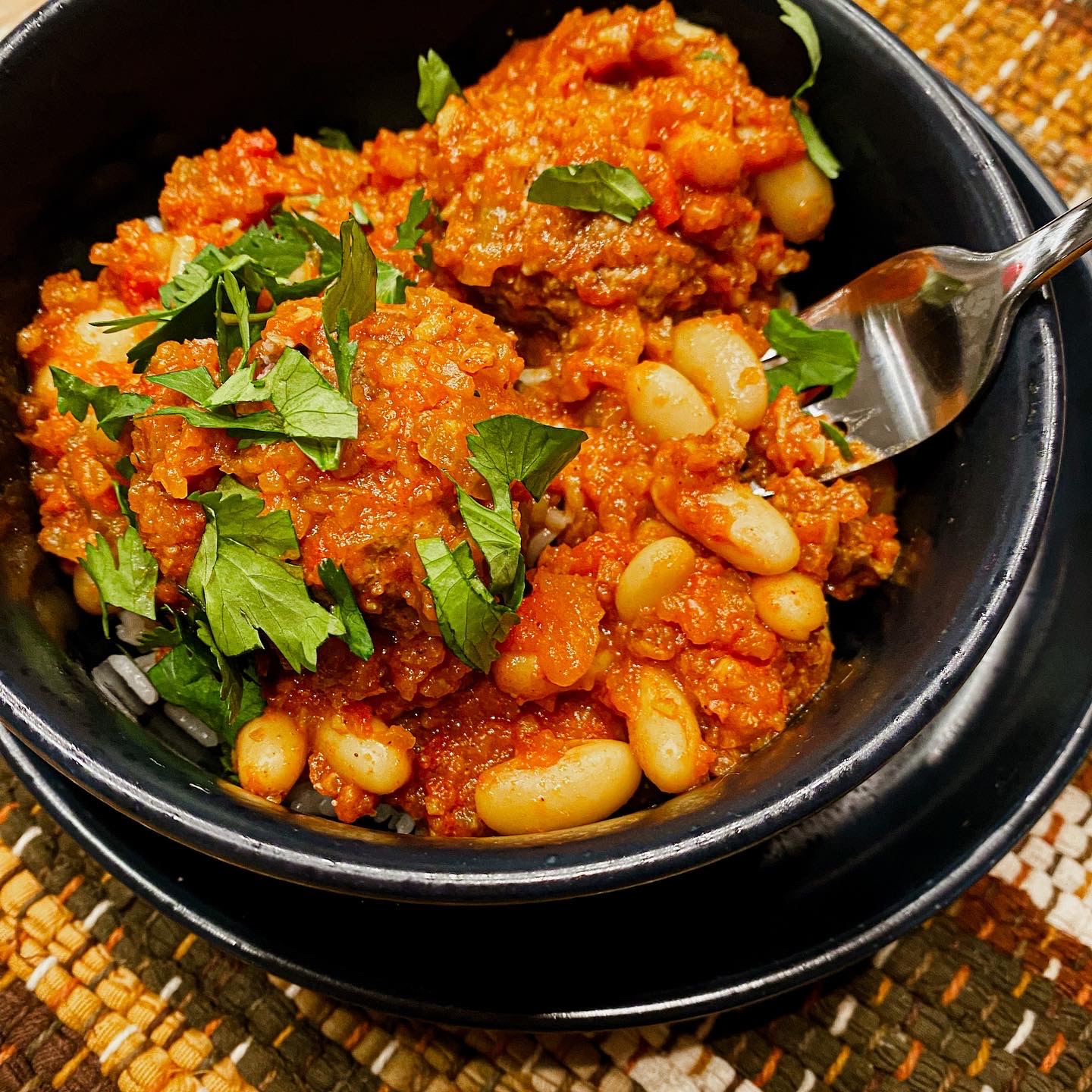 All-Purpose Tomato & Bean Curry
This is one of the most 'anything-goes' curry recipes we know of! And the key ingredients are often already in your pantry. It's a tasty base that you can adapt to make it your own by mixing up the combination of protein and additional vegetables. And if you have any dietary restrictions, you can switch out ingredients without giving up flavour.
INGREDIENTS
2 TBSP Cooking Oil (sunflower, avocado or vegetable)
1 Onion, chopped into small pieces (sub Celery and onion powder if you are avoiding onions)
2-3 Cloves of Garlic, crushed
2-3 cm Ginger, grated
2 tsp Brick Lane Takeaway Curry Blend
1 tsp white sugar *Optional
1 TBSP Tomato paste
500-600 g of Protein
400 g (1 can) of Tomato, crushed
400 g (1 can) White Beans
½ tsp chilli flakes *Optional
120 g Greek Yogurt or Coconut Milk (your choice)
60 g Almonds, ground *Optional
Salt and pepper, to taste
a Handful of Cilantro, chopped
Rice of Naan Bread (to serve)
* The protein can be chicken (i.e. 6 thighs), ground meat shaped as meatballs, cubes of beef or lamb, a package of extra firm tofu (pressed), eggplant (chopped into cubes), seafood or any type of firm white fish (i.e. cod)
* The beans can be kidney beans, butter beans or navy beans.
*Make it your own, adding spinach, kale, cabbage, celery, or carrots to pack in some extra vegetables.
METHOD
On medium-high heat, cook the onions in the oil until starting to turn translucent. Add the garlic and ginger, and cook for 1-2 minutes, stirring constantly. Add the Brick Lane Takeaway and sugar (if using). Mix the tomato paste in.
Add the white beans, tomatoes and, ground almonds (if using), yogurt (or coconut milk) and a ¼ cup of water, bring to a simmer. Add chilli flakes (if using) and salt and pepper to taste.
In a large frying pan, cook your protein of choice so that it is cooked through. (The time will vary depending on the protein of choice.)
If adding additional veg, cook for a few minutes in the frying pan before adding. (ie. If it's cabbage, carrots or anything where you might prefer a cooked texture).
Set the protein in the sauce and cook for 2-3 minutes, or longer if time allows.
Serve hot, on a bed of rice or with naan bread. Garnish with chopped cilantro.