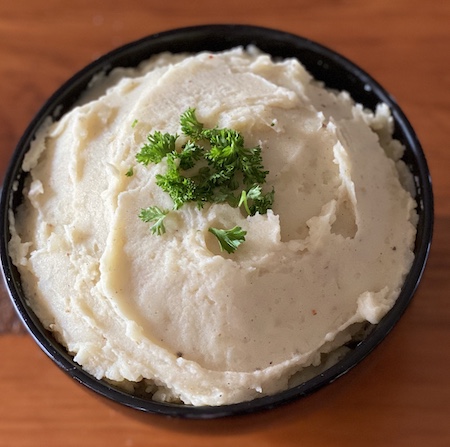 Umami Mash Potatoes
Simple. Decadent. And delicious! Serve with a roast beef, dinner or a steak. Also, delicious served grilled Portobello mushrooms, as a non-meat option.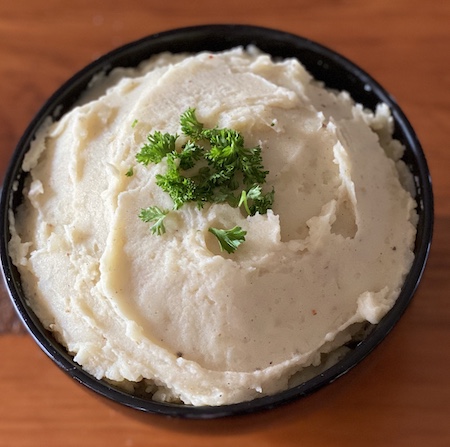 Russet potatoes and Yukon potatoes are the best for mashing. And if you have both, that's ideal!
Prep time 5 min.
Cooktime
Total time'
Serves 4
INGREDIENTS
3 lb. Potatoes (about 4 large, combo of russets and Yukon Golds)
½ Kosher Salt
1 stick butter (+ 2 tablespoons for garnish
1/2cup milk
1/4 sour cream
1 ½ tsp Rather than Flowers
Freshly ground black pepper
Parsly (optional)
DIRECTIONS
Peel, rinse and cut potatoes into large chunks.
In a large pot, cover potatoes with water and add 2 pinches of salt. Bring to a boil and cook until totally soft (appx 12-15 minutes depending on the size of chunks).
Drain and return potatoes to pot on very low heat briefly (allowing water to evaporate).
Use a potato masher to mash potatoes until smooth. Remove from heat.
Meanwhile, in a small saucepan, melt butter and milk until warm.
Pour over warm milk-butter mixture and stir until completely combined and creamy.
Add sour cream and Rather than Flower stiring until combined.
Season mashed potatoes generously with salt and pepper.
Transfer potatoes to a serving bowl and top with the remaining two tablespoons butter.
Season with more pepper and parsley before serving.