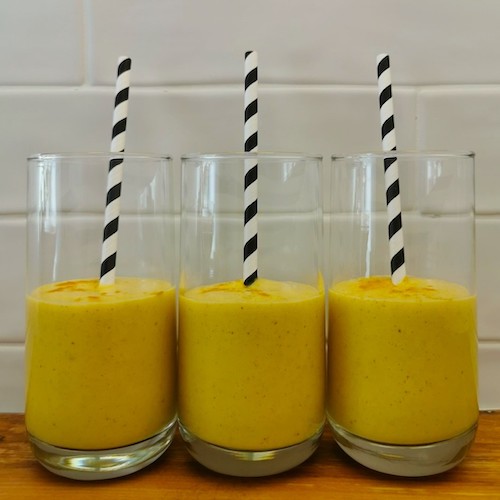 Turmeric Mango Smoothie
Also known as happiness in a glass! Thick and creamy, this smoothie is a boost of sunshine with vitamin C, antioxidants and minerals (the fruit and turmeric combined are super tasty and it's the perfect anecdote for these snowy winter days.
Add a bit of your favourite vanilla protein powder and voila – it's a nutritious breakfast or healthy snack any time of the day!
SMOOTHIE INGREDIENTS
(Yield 2 full servings or 4 snack-size smoothies)
1 Can Coconut milk
2 Cups of Mango, frozen
1 Cup of Ice
1 Banana, frozen or fresh
1 Orange, peeled
1 tsp Ginger Paste
¾ tsp Gorgeous Turmeric
½ tsp Cinnamon
Pinch of Black pepper
1 tsp Flaxseed
1 tsp Hemp hearts
1-2 scoops of Vanilla Protein Powder (*Optional)
DIRECTIONS
Add all ingredients to a high-power blender, blend until smooth and serve!
Add a little cold water if the consistency is too thick.