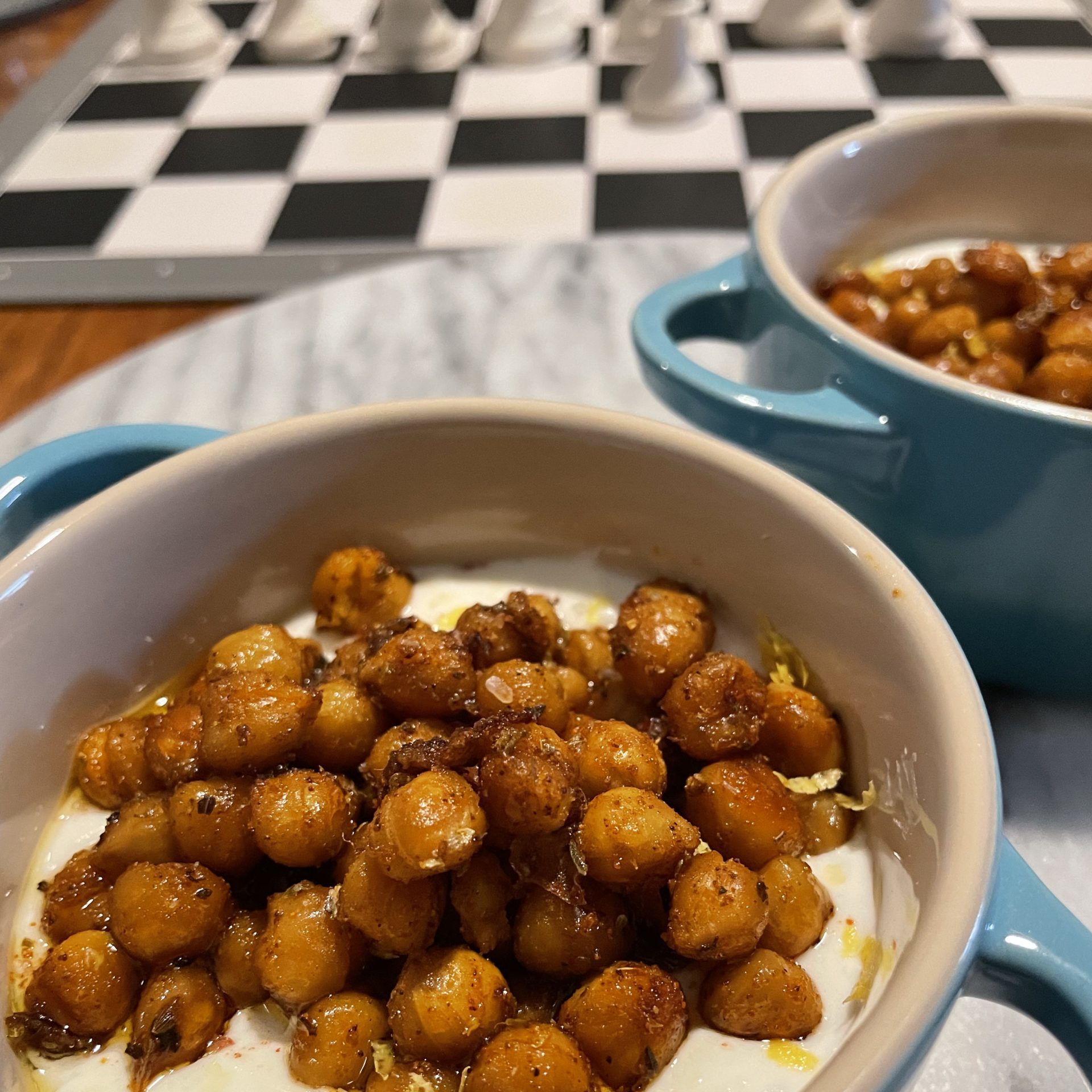 Turmeric Chickpeas with Whipped Feta
This deliciously tangy dip is a treat to serve as an afternoon snack with fresh veggies and as an appetizer with crackers or pita chips. And topped with the spiced chickpeas, the dip has a little extra nutty goodness.
INGREDIENTS
1 can of Chickpeas, rinsed and dried
1 TBSP of Coconut Oil, warmed to liquid
½ tsp Turmeric powder
½ tsp Garlic powder
¼ tsp Paprika (or Smoked Paprika)
¼ tsp Thyme, either ground or a few sprigs of fresh
Salt & Pepper, to taste
—
½ cup Yogurt
1 Cup Feta
1 Lemon, zested and a squeeze of lemon juice (be sure to save a little lemon zest for the garnish)
½ tsp Garlic powder
¼ tsp Salt
METHOD
Preheat oven to 400° and line a baking sheet with parchment, foil or baking mat.
Pat chickpeas dry with a paper towel and allow air-dry for about half an hour.
Combine salt, pepper, turmeric, paprika, garlic powder, and thyme. Add warmed coconut oil and stir. Add chickpea and toss to coat.
Spread out the seasoned chickpeas on the baking sheet and bake for appx. 20 minutes, or until crispy.
While the chickpeas are baking, combine the yogurt, feta, additional garlic powder and lemon zest in a food processor. Taste and add a bit of salt and a squeeze of lemon juice, if needed.
Plate it using the feta as the base and add the chickpeas as a topping. Drizzle a little olive oil and remaining lemon zest for garnish and serve with crackers, pitas or crudités.