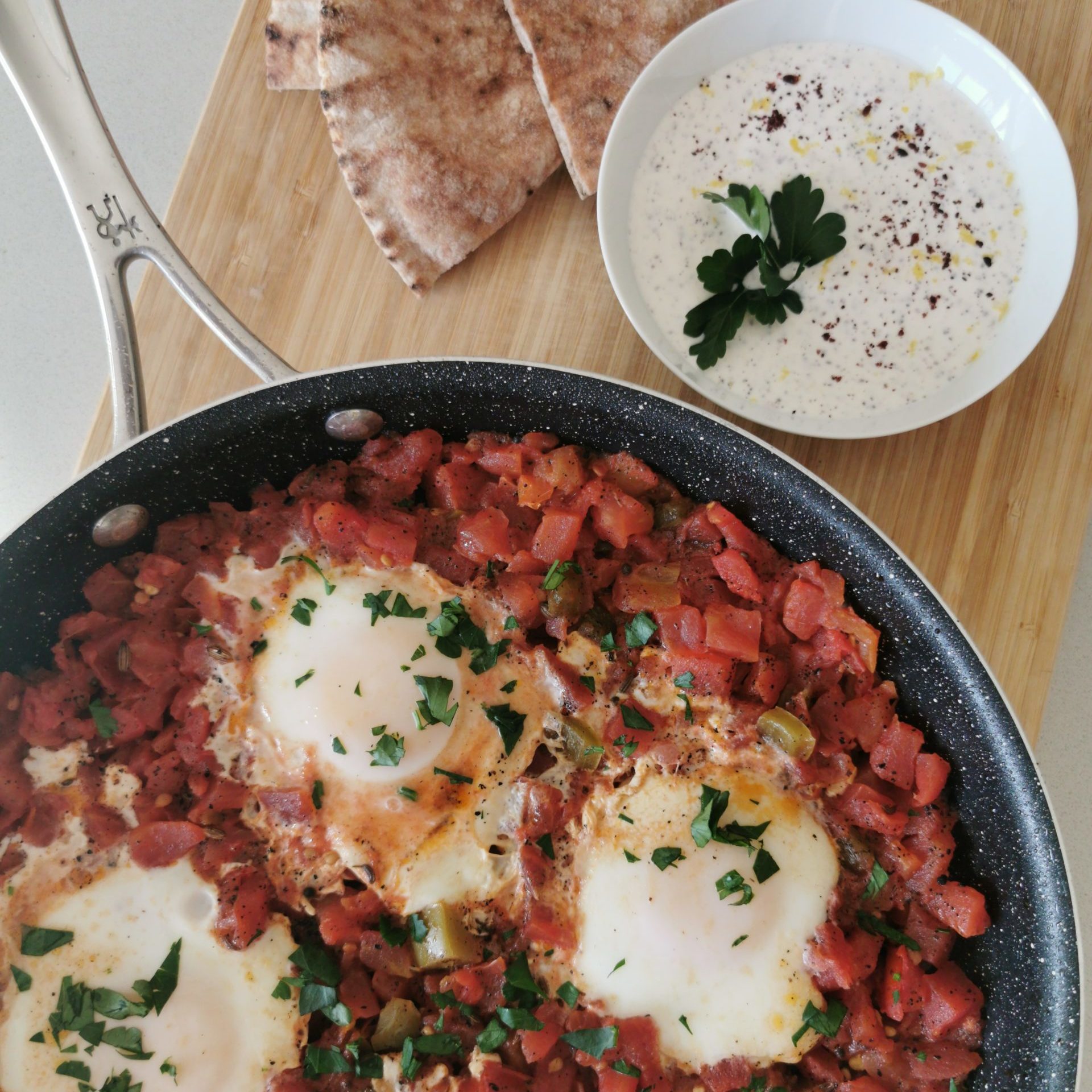 Turkish-Style Eggs
Are you looking to spice up your breakfast or brunch routine?
Here's something for you to try! This recipe is a hybrid, taking some notes from both  "Huevos Rancheros" and "Turkish Eggs." (The basic concept of eggs poached in a delicious sauce has some similarities.)
This recipe saves some time by using Rotel (aka canned tomatoes). The tomatoes and peppers with fennel and mustard seed, sumac, and cumin add a flavourful, spicy kick to the dish.
Serve either with some toasted pita bread and feta cheese crumbles or as-is for a gluten-free option.
INGREDIENTS – Eggs
(Serves 2-4)
4 Large Eggs
2 Tbsp Olive oil
1/2 tsp Fennel seeds
1/2 tsp Mustard seeds
1/2 tsp Cumin
1/2 tsp Sumac
2 cloves of Garlic, crushed
2 10oz cans of Rotel, original
1 Tbsp Tomato Paste
Salt and Pepper to taste
Fresh Parsley
SUMAC YOGURT SAUCE
INGREDIENTS
½ Cup Greek yogurt
½ Cup Mayonnaise
Zest of 1 lemon
1 Tbsp Lemon juice
1 tsp Sumac
1 Clove of Garlic, crushed
Dash of Hot sauce
DIRECTIONS-SUMAC YOGURT SAUCE
Add all ingredients to a bowl stir well to combine. Refrigerate until serving
This sauce tastes better the longer the flavours blend. For the best flavour, make sauce 2 hrs or up to 1 night ahead.
The unused sauce will keep refrigerated for one week.
DIRECTIONS-EGG DISH
Add olive oil to a large frying pan over med/high heat. Add fennel, mustard seed, cumin, sumac and toast the spices for 1-2 minutes, continuing to stir and being careful not to burn. Add the garlic and saute for another minute. Then add the Rotel and tomato paste.
Continue to cook, stirring until sauce cooks down and thickens up about 10-15 minutes.
Use a spoon to make four small wells in the tomato sauce, then crack an egg into each well, so they poach in the sauce.
If you are using feta, sprinkle it over the eggs and cook with the lid on for 4-5 minutes. (Adjust the cooking time to suit how you most like your eggs to be cooked.)
Sprinkle some fresh parsley and a little fresh, cracked black pepper and salt on the eggs. Serve with yogurt sauce and toasted pita bread.