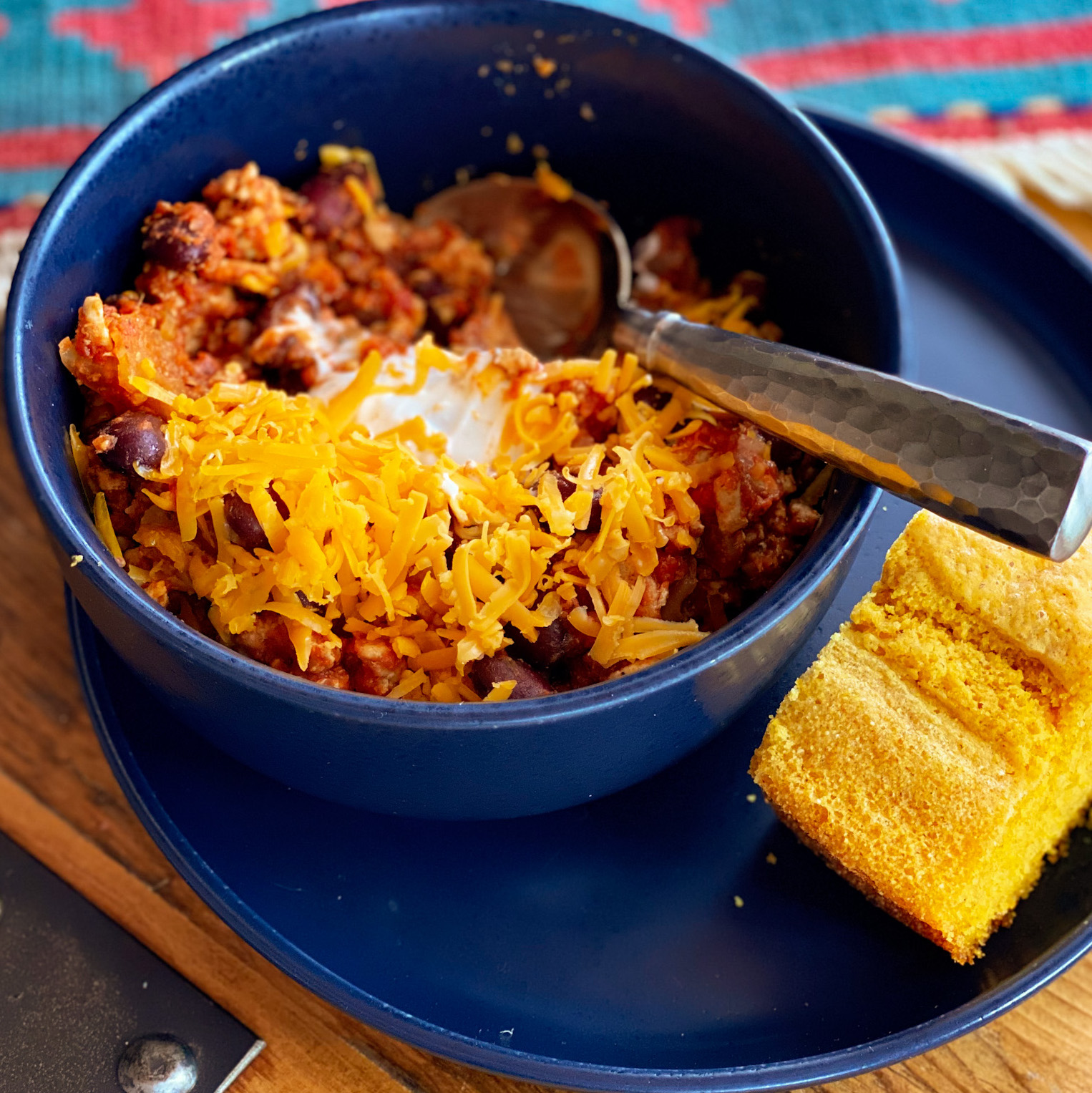 Turkey Chilli Con Carne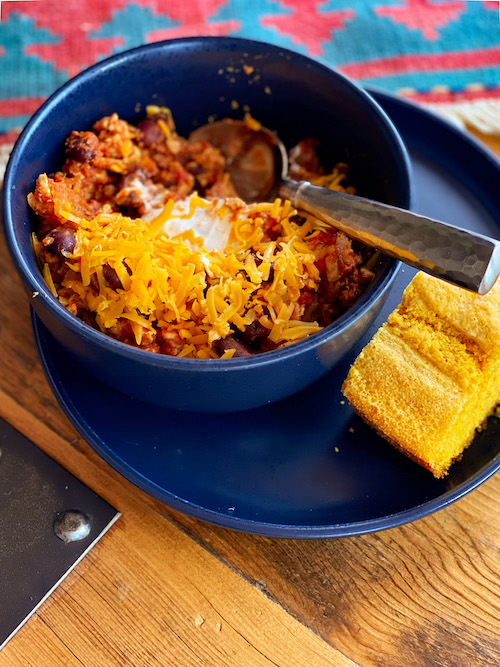 A big bowl of Chilli Con Carne is a fantastic way to warm your belly and your soul in the middle of the winter! (It's also tasty in other season, too – but especially so in the winter.)
And this one has the added benefit of being made with ground turkey making it a bit lighter without giving up the meaty-goodness (and protein)!
If you want to make this a plant-based meal, replace the turkey with a chopped mushrooms and use a vegetable broth cube instead of the beef bouillon.
Or if you prefer the extra beefy flavour, you can replace the ground turkey with lean ground beef.
Serves 4 / Prep time 10 min / Cooking time 30 min
INGREDIENTS
454 g Ground Turkey
1 Large Onion, finely chopped
1 TBSP Oil, Canola or Vegetable
2 Cloves of Garlic, finely chopped
2 Celery Stalks, cut into small slices
2 tsp Lonestar's Leap Spice Blend
1 tsp Cumin, ground
1 tsp Marjoram *optional
1 tsp Sugar
½ tsp Salt
1 tsp Chile, either crushed or ground (and ½ tsp more, if you like a spicy heat)
2 TBSP Tomato Paste
1 Beef Bouillon cube (+ 1 Cup of hot water)
400 g Can of Tomato, crushed
1 540 Can of Red Kidney Beans, strained and rinsed.
2 TBSP Sour cream
⅓ Cup Grated Cheddar
DIRECTIONS
In a large pot, warm the oil on medium heat.
Chop the onions, celery and garlic and add them to the heated oil for about 5-6 minutes, stirring occasionally. (They should start to become translucent.)
In a small bowl, combine the spices and sugar. (Lonestar's Leap, Cumin, *Marjoram, Salt and Chile. Then add this to the onions, celery and garlic and stir.
Add the ground turkey and cook at medium heat for about 8 minutes (until cooked), stirring regularly to prevent it forming large chunks. Make sure the heat is hot enough that it browns well.
In a small bowl or cup, dissolve the beef bouillon cube in hot water then add it to the pot.
Next, add the tomato paste and stir, followed by adding the crushed tomatoes and the red kidney beans. Stir and let sit for at least 15 to 20 minutes.
Serve hot with a dollop of sour cream, and grated cheddar cheese on a bead of rice, or a side corn bread or a cheese biscuit!