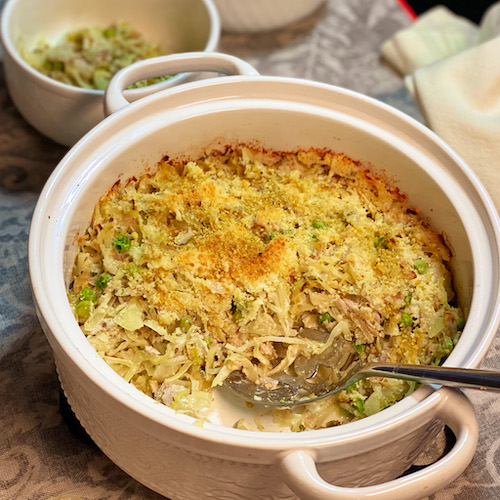 TUNA CABBAGE CASSEROLE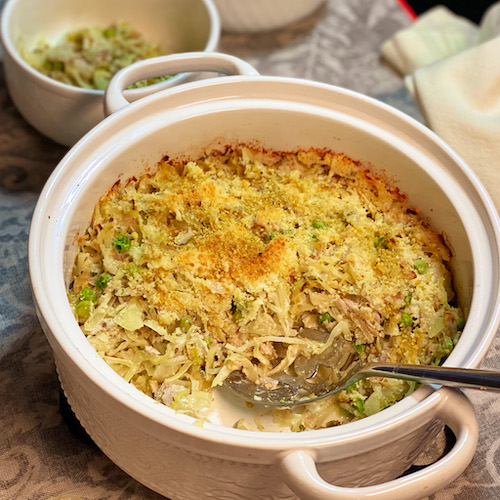 It's surprising just how delicious the creamy, mustard and lemon sauce is together with tuna and cabbage.
Yes, you read it correctly! Cabbage takes the place of noodles in this keto-friendly casserole.
Prep Time: 10 min
Cooking Time: 30 minutes
4 Servings
INGREDIENTS
½ Head of Cabbage, cut into thin shreds
1 Tbsp Olive oil
2 tins (each 100 g) of Tuna, (either in oil or in water) Drained and separated into pieces.
1 Onion, small, chopped into small pieces
2 Celery stalks, chopped into small pieces
½ Cup Cream, heavy cream is best
¾ Cup Parmesan cheese (divided)
⅓ Cup Peas, frozen
Zest of 1 Lemon
2 Tbsp Lemon juice, freshly squeezed
2 Tbsp Parsley, fresh, chopped finely
2 tsp DSF Mustard powder
2 Cloves of Garlic
Salt and Pepper to taste
DIRECTIONS
Preheat oven to 375 degrees.
Heat the olive oil in a skillet on the stovetop, at medium heat. Cook the onion, garlic, celery and cabbage for about 10 minutes until starting to tender. Add salt and pepper.
Add the tuna, lemon zest and juice, mustard powder, parsley, peas and 1/2 cup of parmesan (saving a ¼ cup of Parmesan for the top) and mix well.
Transfer to a casserole dish (if using a cast-iron pan, you can skip this step). Top with remaining parmesan cheese.
Bake for 20 minutes. Serve warm.