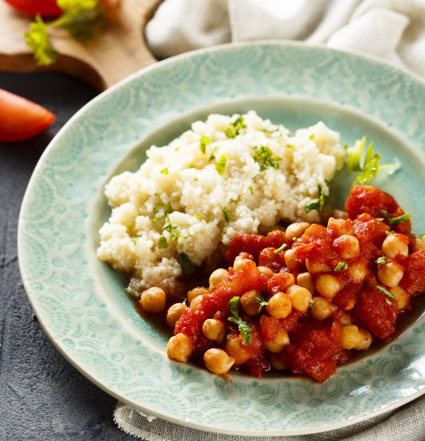 Vegetable Tagine (a la pressure cooker)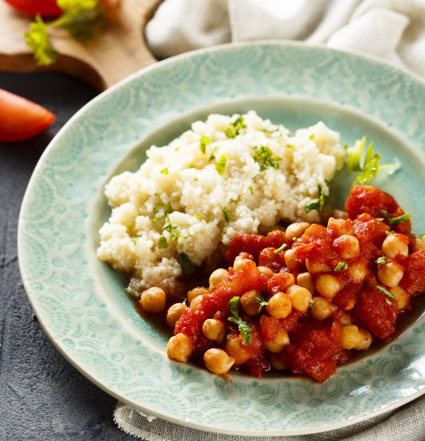 This vegan, pressure cooker vegetable tagine has a brilliant combination of ingredients that will have everyone coming back for seconds. Serve with lemon and herb couscous. Gluten-free.
Serves: 4 to 6
Time: Prep: 15 mins; Cook Time: 15 mins
Ingredients
2 Tbsp (40 ml) olive oil
2 onions, chopped
4 garlic cloves, peeled and chopped
1 1/2 Tbsp (30 ml) Dial R blend
1 medium (1.5lb/ 750 g) butternut squash (fresh or frozen), chopped into 1-inch thick pieces
3 cups (750 ml) vegetable broth
3 cups (796 ml) crushed tomatoes (canned)
½ cup (125 ml) chopped dried apricot
1 stick of cinnamon (or 1 tsp ground cinnamon)
2 cups (398 ml) canned chickpeas, strained and rinsed
1 lb (450 gm) spinach (fresh or frozen)
1 lemon – juiced
Salt and pepper to taste
¼ cup (60 ml) chopped cilantro and/or chopped spring onions
Directions
In a pressure cooker, sauté onion for 3-5 minutes in olive oil until translucent.
Add garlic and cook for 1-2 minutes.
Add Dial R blend, stir in to evenly cover onions.
Deglaze with a couple of tablespoons of broth. Stir to remove any brown bits.
Add butternut squash, vegetable broth, crushed tomatoes, apricots, cinnamon stick and salt. Stir to combine.
Close the lid and pressure cook for 8 minutes.
Do a quick release of pressure. Open lid.
Add chickpeas and spinach to the pot and sauté until spinach is wilted and the chickpeas have warmed (about 3 minutes). Season with lemon juice, salt and pepper. Adjust according to taste.
Serve in bowls over couscous, rice or potatoes. Garnish with fresh cilantro and green onions.