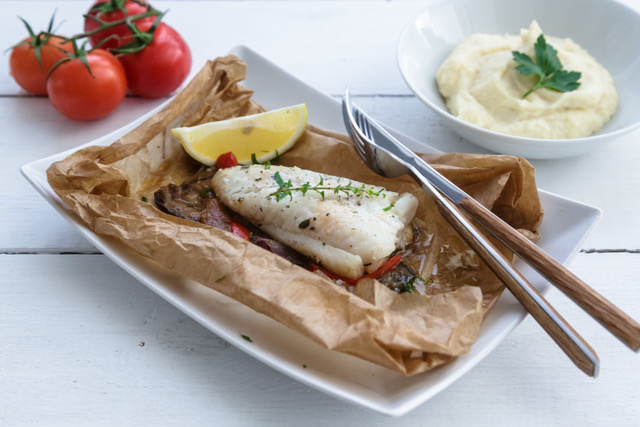 Coriander Cod with Fresh Veggies in Parchment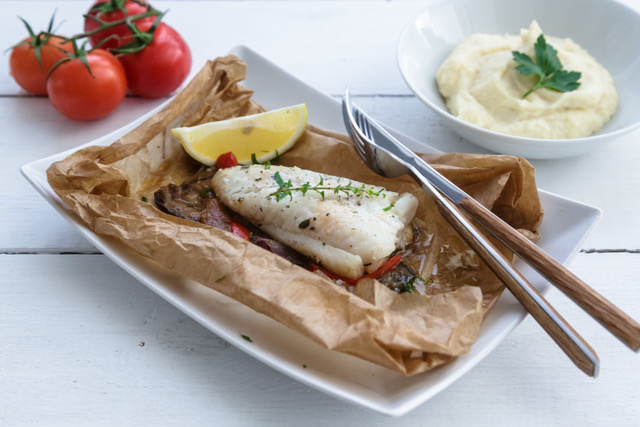 This is a wonderful recipe that creates steamy little packages—each containing a complete dinner. It is delicious, quick, simple to make, and outrageously healthy (keto, paleo, gluten-free!).
Serves: 4 Time: Prep: 10 mins; Cook Time: 15 mins
5 cloves garlic, minced
2 tsp (10ml) ground coriander
1 tsp (5 ml) sumac (substitute paprika if sumac not on hand)
½ tsp (2.5ml) cumin
½ tsp (2.5ml) salt
2 Tbsp (40 ml) extra virgin olive oil
1-2 zucchini, cut into thin circular slices
1 medium onion, cut into thin slices
2 tomatoes, cut into thin slices
8 oz (250 g) fresh green beans
4  8-oz cod (250 g) fillets (1" thick)
Juice from 1 orange


Preheat oven to 450°
Mix garlic, spices and olive oil in a small bowl to make a paste. Place fish on a paper towel and pat dry. Season all over with salt. Using half of the paste, coat 1 side of each fillet.
Prepare four 2-foot sheets of parchment paper on your work surface.
On half of each piece of parchment paper, layer ¼ of the zucchini, onion, tomatoes and green beans into a flat base slightly larger than the size of the fish fillet. 
Place fillets paste side down, on top of the vegetables; coat top sides with remaining paste. Season with salt and pepper.
Divide and pour orange juice evenly over the four fillets.
Fold the open side of the parchment paper up and over fish. Crimp/fold the ends together until it looks like a half-circle.
The packet doesn't need to be airtight, but it should be tight enough to hold the packet together and contain most of the steam.
Place packages on a rimmed baking sheet and bake 10 –15 minutes. Remove from oven, let pouch cool 1 minute.
Transfer fillet packages to large flat bowls. Cut open packages (be careful of the hot steam inside!). Serve with rice.