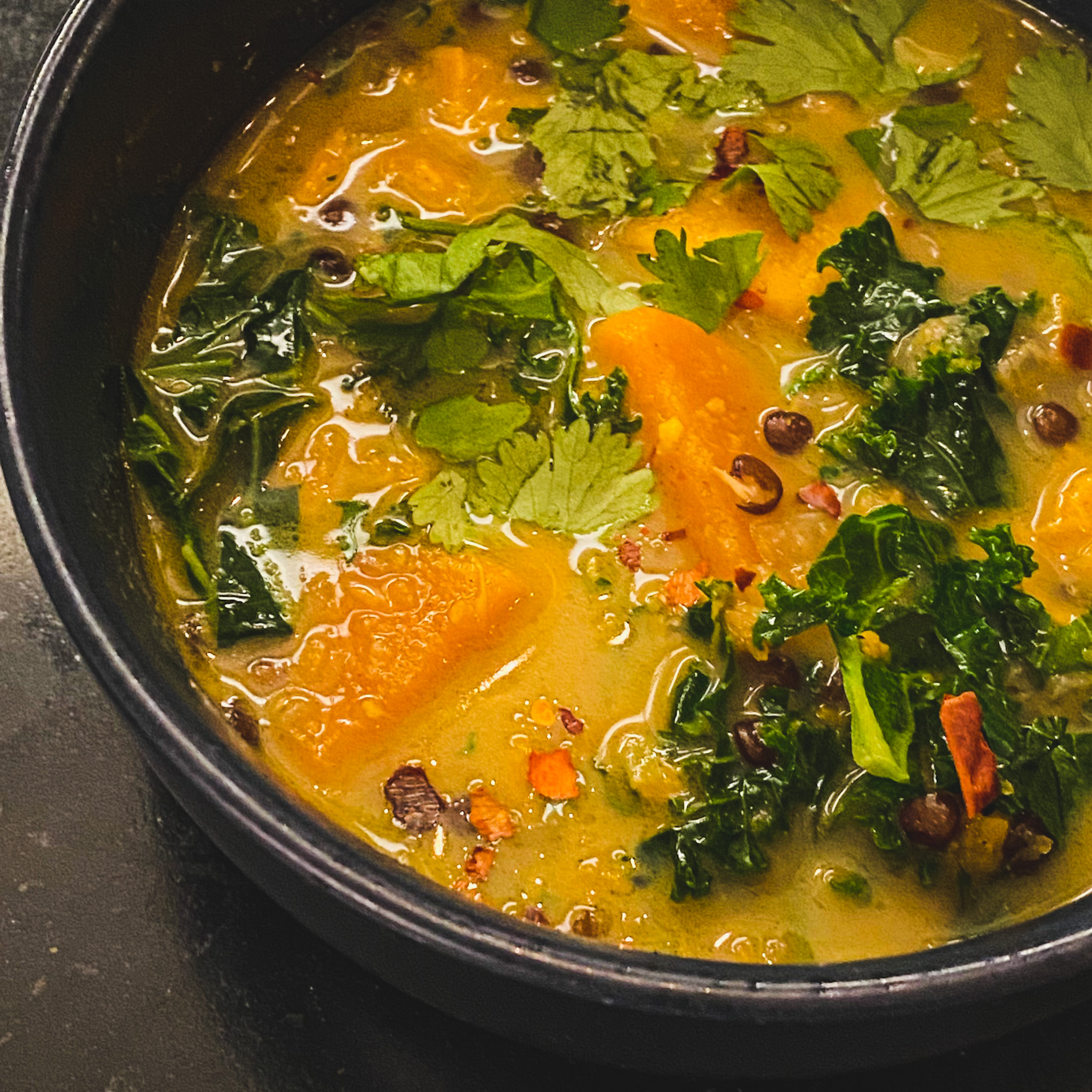 Sweet Potato Stew with Lentils & Kale
Wholesome and flavourful, this vegetable stew is a hearty plant-based meal that comes together quickly (especially if you have an Instant Pot!).  Serve it with fresh-baked bread, or try your hand at homemade naan.
INGREDIENTS
4-6 Sweet Potatoes (depending on size), peeled and diced into 2 cm pieces
⅔ Cup Lentils, uncooked
1 Can (400 g) Full-fat Coconut Milk
4 Cups of Vegetable Stock

2- 3 tsp O

il (

C

oconut or Avocado)
1

  O

nion, chopped finely

½- tsp

 

Chile flakes

*Optional

21/2 tsp Brick Lane Takeaway Blend
1 ½-inch

 

piece

 

fresh ginger, peeled and minced

3

 

cloves

 

garlic, peeled and minced

3 Cups of Kale, fresh and chopped up
sea salt and ground black pepper, to taste
Chopped Cilantro, additional Chile Flakes and Lime Wedges to serve
DIRECTIONS
Use a heavy-bottomed pot on medium-high heat, saute the chopped onion in the oil. Stir regularly to prevent burning and after about 5 minutes, add the Brick Lane Takeaway, garlic, ginger, Chile Flakes and stir for another minute.
Add the Sweet potatoes and lentils and stir.
Add the vegetable stock, bring it to a boil and then reduce to a simmer for about 25 – 30 minutes.
Add the coconut milk and kale, season with salt and pepper to taste and continue to simmer for 5 minutes.
Serve hot with chopped cilantro, chile flakes and a lime wedge.