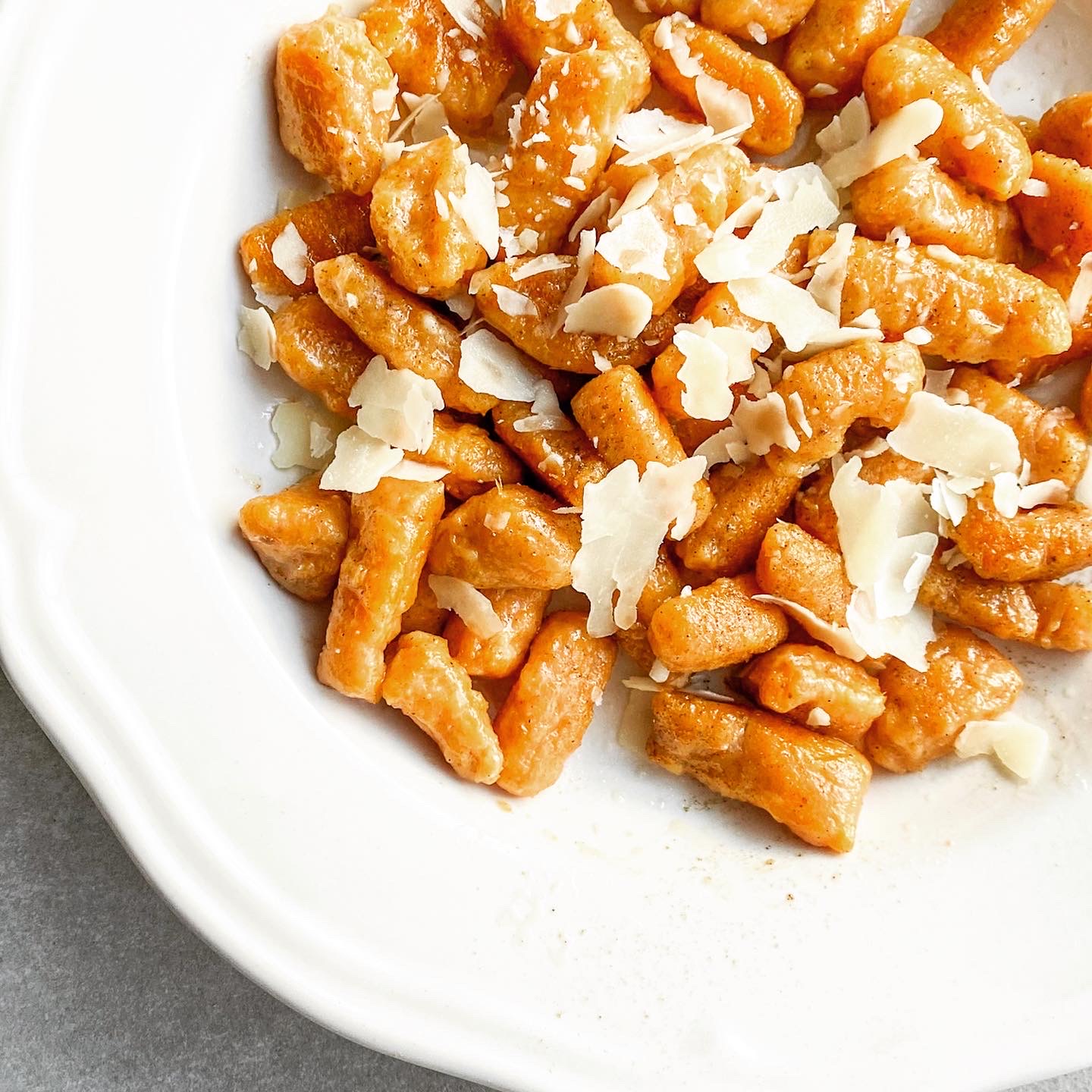 Sweet Potato Gnocchi
Homemade gnocchi seemed like it might be way more intimidating than it actually is. And this recipe can be prepared using gluten-free or regular all-purpose flour. Serve with browned butter, a bit of sage, and a hint of maple syrup or with a creamy sauce.
INGREDIENTS
800 – 850 g Sweet Potato, baked until tender and cooled
12/ Cup Parmesan, grated finely (*Alternately, you can also use Ricotta that has been strained, but increase it to ⅔ cup)
1 tsp Salt
1 ½ tsp Scorpio's Kiss
Ground Pepper, to taste
1 ⅓ Cup Flour of your choice and an additional ¼ Cup for kneading
---
FOR SAUCE
1 small bunch of Sage, leaves removed (or ground sage, if you don't have fresh)
½ – 1 Tbsp Maple Syrup
2 Tbsp Butter
A dash or Scorpio's Kiss
Parmesan Cheese as garnish
METHOD
Scoop the baked sweet potato out of the skin and puree using a food processor, potatoes ricer or Magic Bullet.
Add cheese, salt, Scorpio's Kiss, and flour. Fold together.
Dust a work surface or pastry mat with flour and knead gently. Divide into five pieces and roll into 2 cm rolls. Cut small pieces (about 1 ½ cm each) and then gently roll with a fork (if you want a bit of a texture added). *If serving at a later date, the gnocchi can be frozen at this point and cooked just before serving*
Bring a pot of salted water to a boil. In batches, cook the gnocchi until they float. Lift out with a slotted spoon.
In a skillet on medium-high heat, melt the butter and sage together until the butter starts to brown lightly. Turn the heat down and add the maple syrup. Toss the cooked gnocchi in the browned butter sauce, allowing it to cook gently on each side. Serve with parmesan cheese as garnish.
For a decadent creamy sauce option, try this Creamy Bacon Sauce.