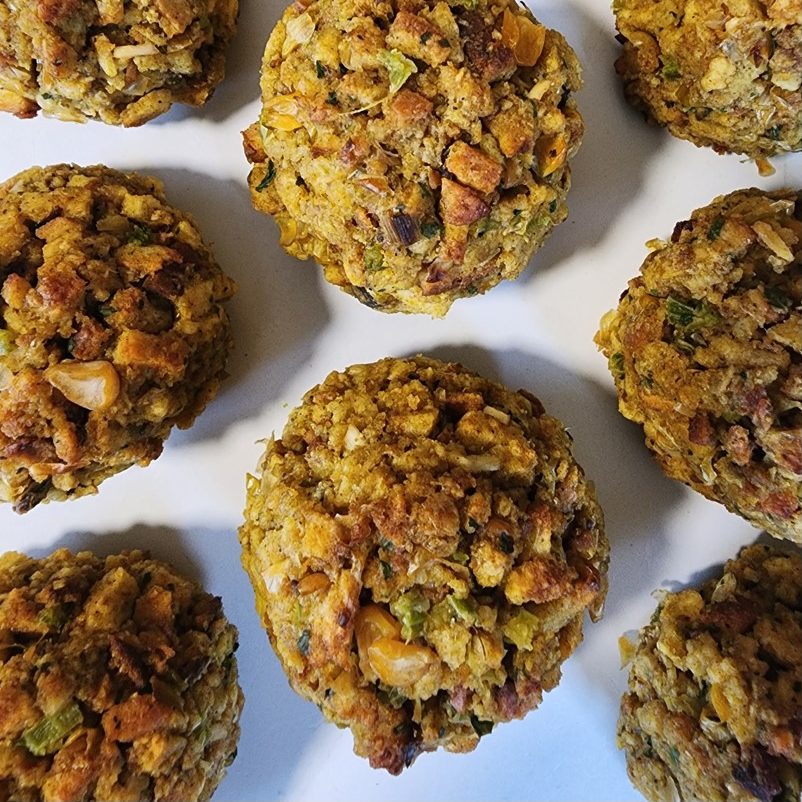 STUFFING BALLS
Makes 12 servings
Roasted turkey and chicken dinners are really all about the stuffing, right?  Here's a little spin on a must-have side dish for every roasted poultry feast.  These look fabulous on your table and a little fancy!  They will give everyone the perfect ratio of crispy edges and soft and tender centre.  They would also be fabulous with some added cooked and crumbled Italian sausage.
And here's an idea to try!  If you have any leftovers, use them for turkey or chicken sandwiches the next day! Simply slice them through the centre while they're cold, toast them in a pan with some melted butter, and build your Sammy using the stuffing balls as your bun.  You're welcome.
INGREDIENTS
6 cups of Seasoned Stuffing Croutons (we used boxed turkey stuffing mix)
1 14oz can Creamed Corn
1 cup Celery, chopped
½ cup Onion, diced
¾ cup Butter, divided
1 cup Chicken Broth
1 ½ tsp Poultry Seasoning
1 tsp Saturnalia spice blend
¼ tsp Kosher Salt
¼ tsp Black Pepper
3 Egg Yolks
DIRECTIONS
Preheat oven to 375°
Add croutons to a large bowl and set aside.

Melt ½ cup butter in a skillet over medium heat.  Add celery and onions and saute until the onion is translucent. 

Add creamed corn, poultry seasoning, saturnalia, salt and pepper, and boil.  Remove from heat and cool for about 5 minutes. Pour the mixture over the croutons and add the egg yolks. Stir gently to combine, leaving no dry pockets of croutons.
Portion the balls using a ½ C measuring cup and gently shape them into balls.  Place on a stoneware baking tray or a parchment-lined cookie sheet—melt the remaining ¼ Cup of butter and drizzle over top of each ball.
Bake uncovered for 30 minutes or until lightly browned.
Enjoy!