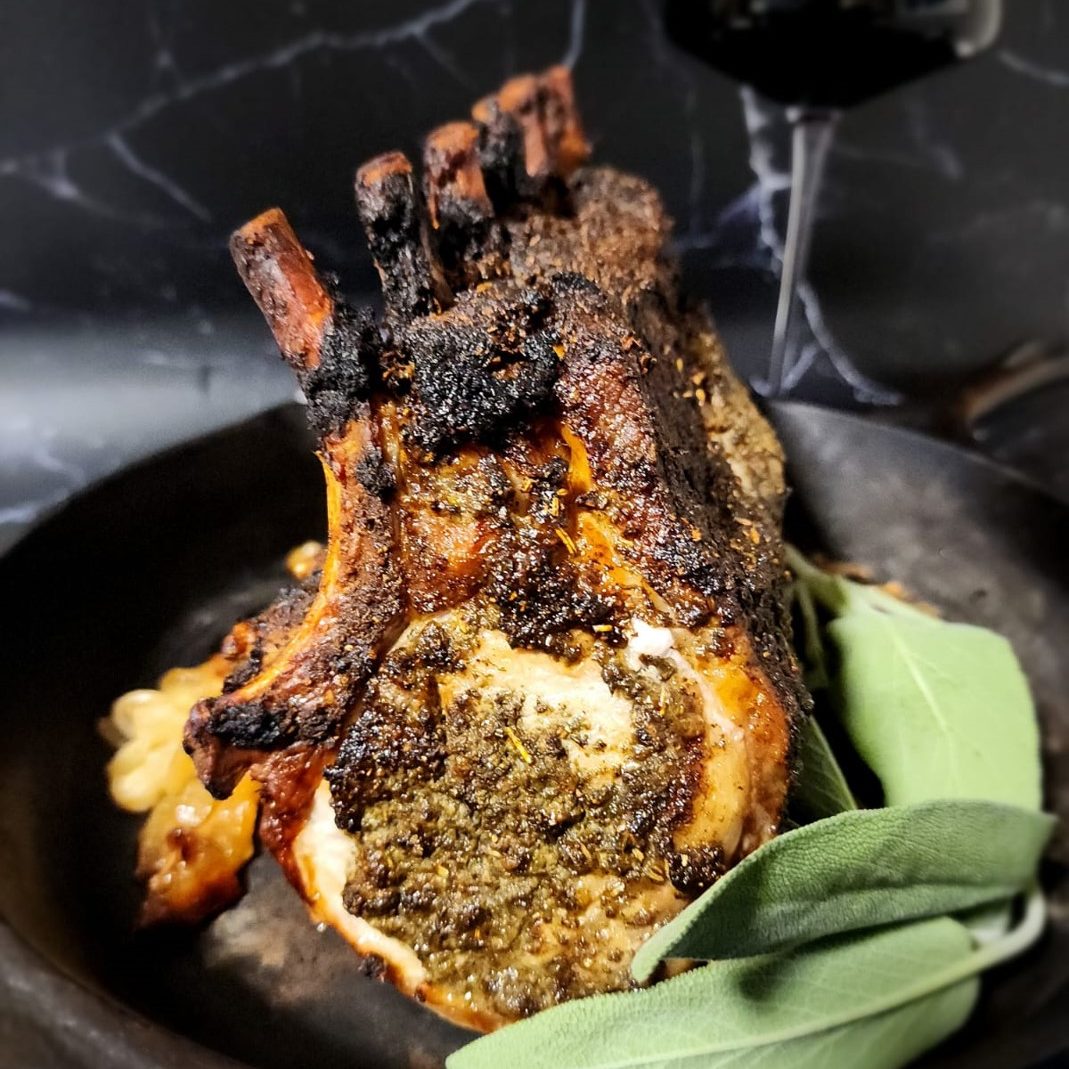 STANDING PORK RIB ROAST WITH FRESH HERB & FENNEL RUB
Next time you entertain, entertain this idea for dinner!  It's a tremendous homestyle dish that, although easy to prepare, makes a statement on your table. Rib roasts are easy to portion and look beautiful on the plate. You're sure to have a delicious base to make a flavourful, rich gravy by using veggies as your rack to place the roast upon as it cooks.  Give yourself a day in advance to prepare and marinate, so you get the best of what these flavours have to offer. Pair with shaved fennel, apple salad, and parsnip mash for a show-stopper dinner!
INGREDIENTS
3lb Pork Rib Roast, frenched about 6 ribs
3 Onions
2 Carrots
1 Apple cut in 4 pieces
2 Ribs Celery
4 cloves Garlic, whole
Herb & Fennel Rub:
2 ½ tsp Fennel Seeds
4 Sprigs of Fresh Rosemary Leaves
1/3 cup of Fresh Sage Leaves
5-6 cloves of Garlic, crushed
Zest of 1 Lemon
2 tsp Fresh Fennel Fronds
1 tsp Kosher Salt
1 tsp Black Pepper
½ tsp Chili Flakes
4 Tbsp Olive Oil
METHOD
In a small skillet, toast the fennel seeds for 1-2 minutes.
Add toasted fennel seeds, rosemary, sage, crushed garlic, lemon zest, fennel fronds, salt, pepper, and chilli flakes to a small blender or food processor.  Blend and slowly stream in olive oil to make a paste.
Rinse roast and pat dry with paper towels.  Cover roast with herb paste, then cover with plastic wrap and place in the fridge to marinade for 12-24 hrs.
Remove the roast from the fridge and allow the meat to come to room temperature before placing it in the oven—about 1 ½ hrs.
Heat oven to 450°
Slice onions into ½' rings and place in the bottom of the roasting pan along with whole carrots, celery ribs and apple wedges. Drizzle with a little bit of olive oil and salt and pepper
Place roast on top of veggie/apple base and roast at 450 for 20 minutes, then turn the temperature down to 350 and continue to roast until the internal temperature reaches 145°. (About 1 ½-2 hrs more.)
Remove from oven and let rest for 20 mins before carving.