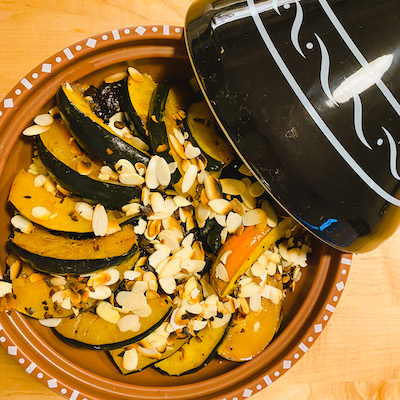 SQUASH TAGINE WITH PRUNES & DIAL R FOR RAS
Oven-roasted squash, delightfully sticky prunes and sweet-roasted onions together with Dial R for Ras give this traditional Moroccan dish (named after the earthenware pot in which it is sometimes cooked) a spicy, fragrant and sweet flavour. Top with some toasted almonds and serve over a bed of couscous for a glamorously fabulous vegan-friendly meal.
INGREDIENTS
454 g small Shallots, peeled and sliced finely
400 g Soft Prunes (either with the stone in or removed, both work well)
1 Acorn or Butternut Squash, seeds removed and cut into 1.5-2 cm thick pieces
2 Tbsp Olive Oil, divided
1 ½ tsp Dial R for Ras
1 tsp Brown Sugar
3 cloves of Garlic
A pinch of Crushed Chillies
Salt and Pepper to taste
A dash of Soy Sauce
¼ Cup sliced Almonds, gently toasted
1 TBSP Parsley, finely chopped
DIRECTIONS
Preheat the oven to 400 F and prep a baking sheet with parchment or a silicone mat.
In a large bowl, toss the squash in 1 Tbsp olive oil. Sprinkle over top, Dial R for Ras, salt, pepper, brown sugar, Tobasco and soya sauce and toss again. Roast in the oven for 25 Minutes.
Heat remaining olive oil in a large skillet on medium-high heat. Add sliced shallots and cook until they start to get a bit jamm-y (turning a nice golden brown colour). Add a pinch of salt and pepper, the whole garlic cloves and the prunes. Top with a bit of water (Not quite enough to cover the mixture) and simmer with the heat on high. The prunes will start to dissolve into the opinions and make a delicious confit. (This will take about 25 minutes.)
Reconstitute some couscous, using a pinch or two of Dial R for Ras. When water is fully absorbed add a pinch or two of Dial R for Ras and a dab of butter, then fluff with a fork.
Serve with the couscous as the base, the onion-prune confit on the next layer, then the squash with a topping of the toasted almonds and parsley.