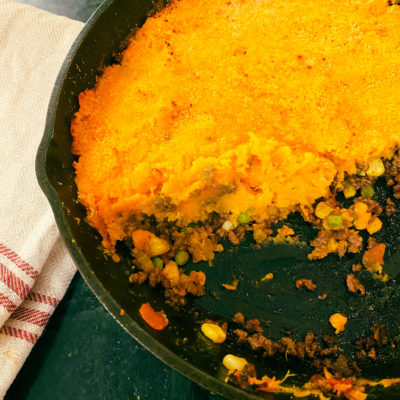 Shepherd's Pie with Sweet Potato Mash
Snow is officially sticking to the ground, which calls for comfort food — and a savoury Skillet Shepherd's Pie definitely checks the box. Audibly bubbling out the oven with a thick layer of mashed sweet potatoes (brushed with a little butter) blanketing ground lamb and vegetables, and it's a winner!
INGREDIENTS
1 T Olive oil
1 large onion, chopped
2 cloves of Garlic, minced
454 g Lamb, lean and ground (substitute with lean ground beef, if you prefer for Cottage Pie)
1 C Beef Broth
1 1/2 T Saturnalia
½ tsp Chille Flakes *Optional
Salt & Pepper to taste
1 ½ – 2 C of Veggies (a mix of frozen corn, peas, chopped beans or carrots)
1 T Worcestershire Sauce
—-
5-6 Sweet potatoes, peeled and cut into large pieces
3 T Butter
⅓ C Milk
¼ C Parmesan Cheese, grated
Salt and Pepper to taste
DIRECTIONS
Pre-heat oven to 350 ° F.
In a medium-sized pot of boiling water, cook the sweet potatoes until tender (about 15 – 20 minutes)
In an oven-proof skillet, cook the lamb for about 5 minutes breaking it up into smaller chunks.
Add the onions and cook for a couple of minutes string together with the lamb, then add the garlic and blend.
Add the crushed chille flakes, Worcestershire sauce, beef broth and veggies. Cook on low.
Drain and mash the cooked sweet potatoes, adding the butter, milk, parmesan cheese, salt and pepper.
Spread the mash over the top of cooked meat mixture, and place in the oven for 35 – 40 minutes so that the top gets a nice golden brown colour. Serve warm.