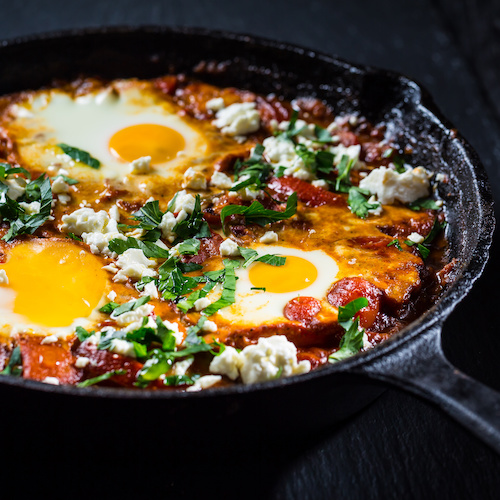 Shakshuka with Dial R for Ras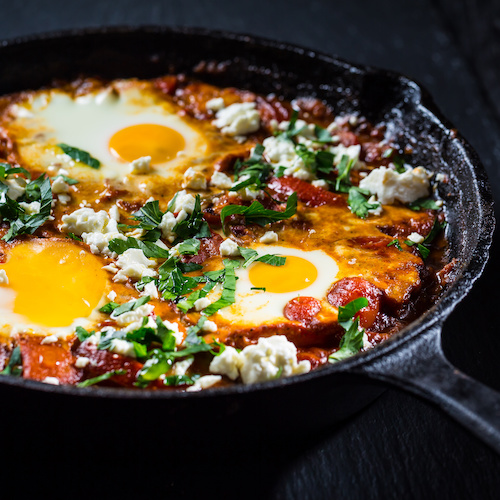 This tasty combination of tomatoes, eggs and feta is never a miss and works well for either breakfast or lunch! We've added some Dial R for Ras to this tomato / poached egg combo to give it a middle eastern twist.
This dish lends well to your personal taste. You can replace the eggs with tofu for a tasty vegan option, or add sausage for something extra hearty. Toss in some spinach or chopped zucchini, if you want extra veg. And add some chilies or hot sauce – if you want a little extra heat.
Serve with thick toast, or on a bed of couscous or rice.
INGREDIENTS
1/3 Cup olive oil
1 Onion, peeled and chopped
2 cloves of garlic
1 Tbsp Dial R for Ras
1 tsp kosher salt
1 Can (796 mL) of crushed tomatoes
6 – 8 eggs (depending on the size of the group)
Salt and Pepper, to taste
1/4 Cup of Feta, crumbled.
Chopped parsley or cilantro, for garnish.
DIRECTIONS
Heat olive oil in a large frying pan (use a frying pan that has a lid that fits!). Add onions and cook on medium until translucent. (appx 6 minutes)
Add garlic and Dial R for Ras, salt and stir continuing to cook at medium heat for another minute or two.
Add tomatoes, and reduce heat. Let simer on low heat until sauce starts to thicken. (about 10 minutes)
Using a large spoon, create small pockets for the eggs. Crack eggs and add, one at a time. Cover and cook until egg whites start to set, but yokes are still soft. (about 6 – 8 minutes)
Remove from heat, sprinkle with feta and parsley or cilantro and serve with toast or on couscous.