Sesame Chile Sauce
Once you try this Sesame Chile Sauce you are going to want to keep a batch made at all times. It's the perfect way to add a spicy kick to just about any dish you can think of.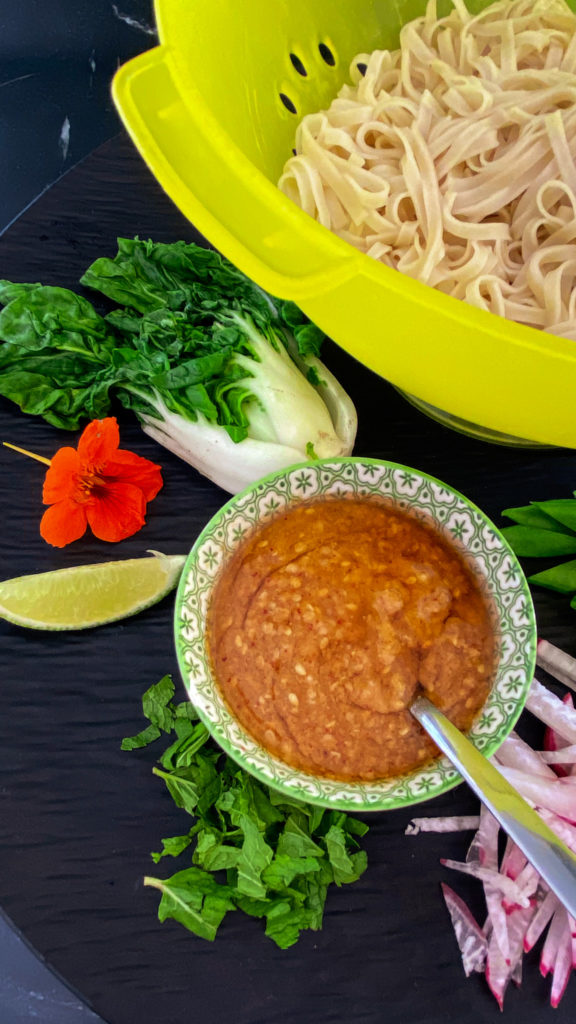 INGREDIENTS
1/2 Cup Neutral oil
2 Tbsp Sesame oil
2 tbsp Rice wine vinegar
11/2 tbsp Miso
1 Tbsp Soy sauce
1 Tbsp Sugar, white
2 ½ Tbsp Sesame seeds, gently roasted roasted
1 Tbsp Sesame seeds, ground (or Tahini)
2 tsp Ginger, fresh/minced *optional
1 tsp Crushed chile pepper
1 clove Garlic (roughly grated)

DIRECTIONS
Place all the ingredients except for the oil, the miso and the sesame oil into a heat-proof bowl.
Using a small saucepan on medium heat, warm the neutral oil until it reached 350 degrees.
Pour the warmed oil into the bowl with the other ingredients. Stir and allow to cool to room temperature.
Add miso and sesame oil, stir and keep in a sealed container in the refrigerator.
Serve with noodles, on corn on the cob, on eggs, in a salad, on french fries (with mayo and chopped green onions- oh my!), in soup, on ice cream – you name it! It's pretty delicious on everything.