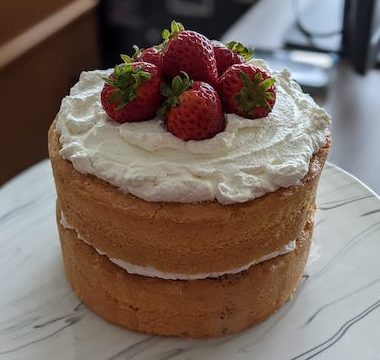 Scorpio's Kiss Tres Leches Cake
Add a little Scorpio's Kiss to add a warm spice to this traditional Mexican sponge cake soaked in a blend of 3 different types of milk.   Make-ahead the night before for optimal soaking to get the perfect texture.
INGREDIENTS – CAKE
1 1/2 Cup All-Purpose Flour
1tsp Baking Powder
1/2 Cup Butter, softened
1 Cup White Sugar
5 Eggs, ideally room temperature
1 tsp Vanilla Bean Paste or Extract
INGREDIENTS – MILK MIXTURE
2 Cup Whole Milk
6 oz Evaporated Milk
7 oz Condensed Milk
3 tsp Scorpio's Kiss
INGREDIENTS – WHIPPED CREAM
1 Cup Whipping Cream
3 Tbsp Powdered Sugar
1 tsp Vanilla Bean Paste or Extract
DIRECTIONS
Beat the sugar and butter until light and fluffy. Add eggs until mixes. Stir in vanilla. Add flour/baking powder combo slowly until smooth. Divide into 2 6″-pans, bake at 350 for 25 to 30 minutes (check that it is done with a toothpick. It should come out dry/without any crumb).
Let the cakes cool. Once cooled,  cut off the tops to level them and set them aside.
Whisk the milks together with the Scorpios Kiss and slowly pour the milk mix into the cakes, a little at a time. (You can use a squeeze bottle if you have one, or use a small ladle to spread the milk mixture as it soaks in. (Wait a couple of minutes between pours and keep mixing the milk and spice together otherwise, it will separate.).
Leave in the fridge overnight, and ideally on a cooling rack on a baking tray to catch any drips (although there isn't much).
(Next day) Whip cream to stiff peaks, add sugar and vanilla, then stack and assemble. Garnish with berries.