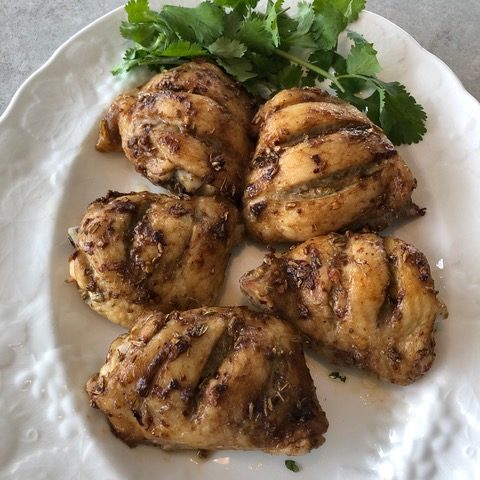 Roasted Chicken Thighs with Fennel, Soy and Honey
Serves: 4 people
Time: Prep: 5 min; Cook time: 30 mins
This flavour-packed dish takes only 5 mins to prep with the help of a small blender. To get maximum flavour — slash the chicken skin so the flavors can seep in.
Ingredients
2 Tbsp (30 ml) extra-virgin olive oil
1 Tbsp (15 ml) soy sauce
1 Tbsp (15 ml) freshly squeezed lemon
2 Tbsp (30 ml) roughly chopped garlic
1 ½ tsp ground fennel seeds
3/4 tsp dried oregano, crumbled
3/4 tsp crushed red pepper
2 tsp honey
Salt and pepper to taste
8 skin-on, bone in chicken thighs
¼ cup (60 ml) fresh cilantro, chopped
Preheat oven to 400° F
Combine olive oil, soy sauce, lemon, garlic, fennel seeds in a small blender. Process until fairly smooth. Mix in the oregano, red pepper, honey and salt and pepper to taste.
Make two or three slashes in the skin of the chicken thighs – about 1" deep. Using your hands, coat each chicken thigh with the seasoning mixture making sure to rub the sauce into the slashes and the underside of each leg. (Pro tip – you can cover and refrigerate for a few hours or overnight to gain max. impact!)
Put chicken thighs on baking sheet and cook for 30 mins.
Transfer chicken to a platter. Garnish with cilantro.