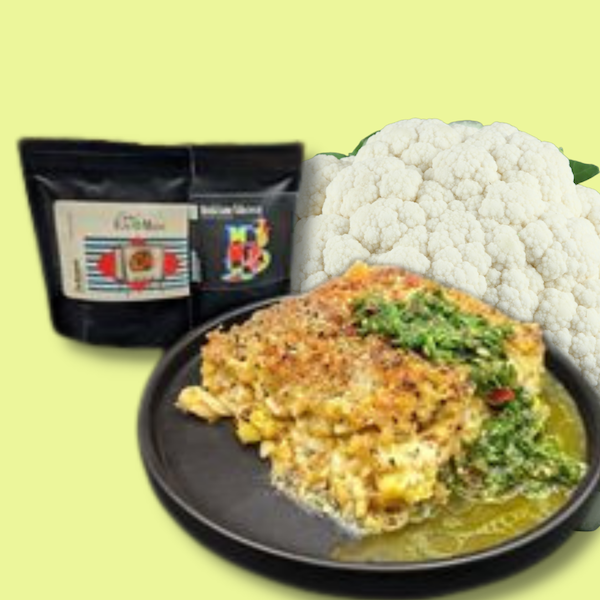 Roasted Cauliflower Mac & Cheese with Flav-O-Matic
This vegetarian-friendly mac and cheese came from one of our good friends, Adam W (you can find his recipe inspirations on Instagram at @ambrewzia)!
This recipe features a combination of two of our blends – Brick Lane Takeaway together with Flav-O-Matic (along with 4 kinds of cheese, too!) It's creamy, delicious and so packed with flavour!
INGREDIENTS
1 medium Cauliflower, broken into 1″ florets
3 Tbsp Olive Oil
1 Tbsp Brick Lane Takeaway spice blend
½ tsp Black Pepper
kosher salt to taste
375g Pasta of choice, partially cooked (approximately half the package time)
1 Cup of Heavy Cream
1 ½ Cups Milk, nonfat
½ Cup Chicken stock
2 large Eggs
227g Goat cheese, whipped
227g Havarti, shredded
227g Monterey jack w/ jalapeno, shredded
1 tsp Brick Lane Takeaway spice blend
1/2 tsp Crushed Chile Flakes
227g Old Cheddar, shredded
1/2 cup Panko, wholewheat
2-3 tbsp Flav-om-Matic spice blend
DIRECTIONS
1. Preheat the oven to 450°F. Prep a baking sheet with parchment paper.
2. Toss cauliflower in the olive oil, 1 tbsp of Brick Lane takeaway plus the pepper and salt. Arrange on a parchment-lined baking sheet large enough to not crowd the sheet. Use 2 sheets if necessary. Add to the oven, turn the broiler to high, and watch carefully for the cauliflower to start developing colour. About 6 minutes.
3. Remove the baking sheet from the oven, flip the cauliflower and return to the oven for 5-10 minutes more. Around the 5 minutes mark, check the doneness by using a paring knife to pierce the stem. If there is little resistance, the cauliflower is ready. (Remember it will get baked again!)
4. Reduce the oven down to 350°F. In a large bowl, mix your cream, milk, stock, eggs, goat cheese, Havarti, Monterey Jack, 1 tsp Brick Lane Takeaway and ½ tsp of chile flakes until combined. Add the partially cooked pasta and cauliflower and fold until evenly mixed. Transfer mixture to a deep 13×9″ casserole dish.
6. In a small bowl, mix the panko and the Flavomatic. Spread the shredded white cheddar evenly over top of the mac and cheese then finish with the Panko-Flavo mixture.
7. Bake in the heated oven until just set. About 35-40 minutes. It should still be slightly jiggly in the center. Cool for 10-15 minutes before serving.