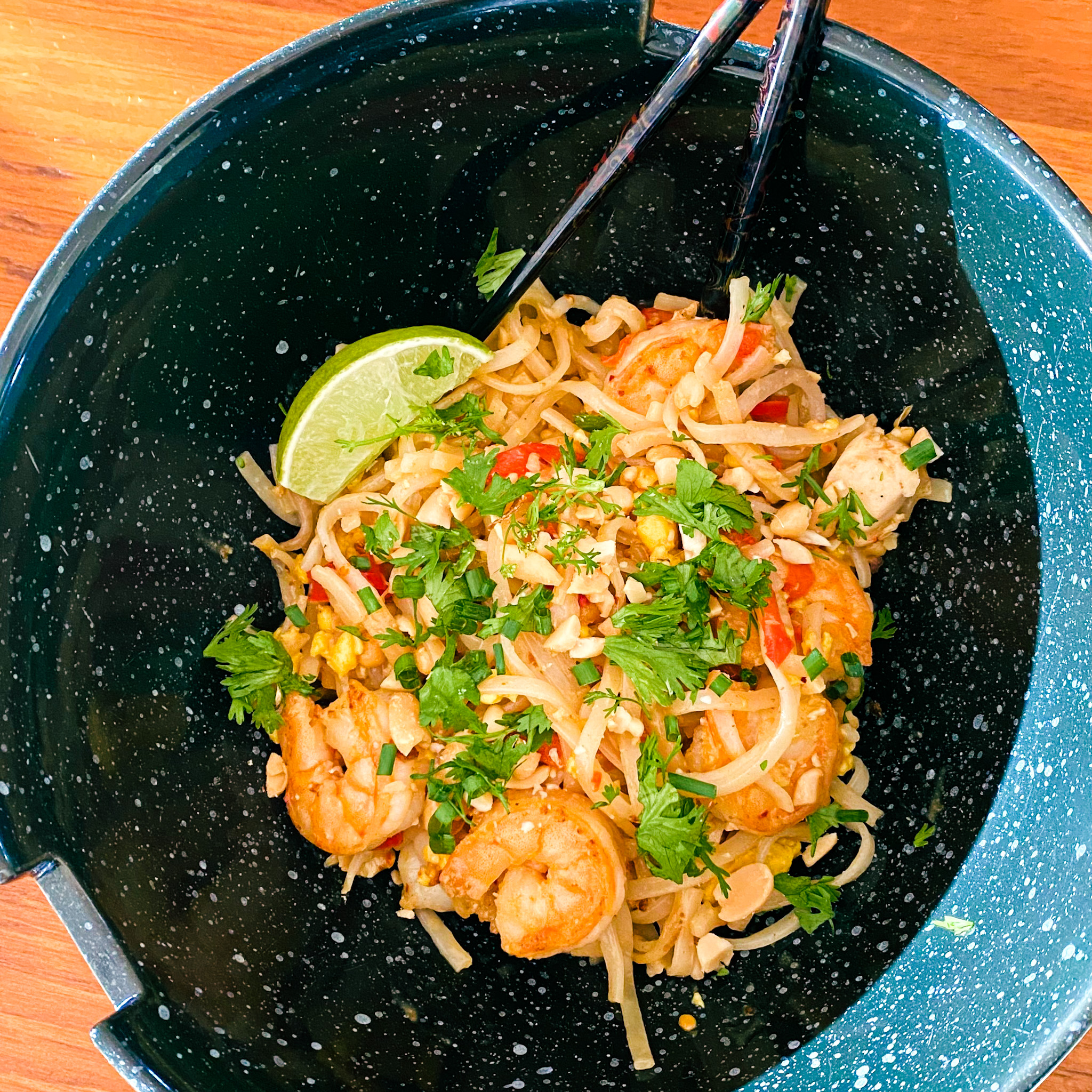 Pad Thai
Pad Thai is a fun dish to make if you have a group of people coming over for a casual dinner party. It's easy to prep the sauce and proteins and pull it all together in minutes just before serving. And it sets a tone of informality that seems to go brilliantly on a warm summer night with a cold beverage.
A couple of things worth mentioning:
One – Make sure to read the directions on the noodles you use. Some require rinsing immediately to avoid the globbing together, and others don't. The best is to have the sauce ready for the noodles and coat them directly after they've cooked.
Two – Some people prefer more of a sweet sauce (add more sugar) if that describes you and others prefer a more sour flavour (less sugar). Adjust as you desire.
Three – If you can find tamarind at your supermarket, that's the best. Replace the vinegar with 2 Tbsp of Tamarind.
INGREDIENTS
Sauce
2 ½ Tbsp Fish Sauce

½ Tbsp Soya Sauce, low-sodium

4 Tbsp Brown Sugar

1 ½ Tbsp Rice Wine Vinegar

1 ½ tsp Crushed Chile Flakes

1 ½ tsp Ginger, freshly grated *Optional

2 Tbsp Creamy Peanut Butter
Proteins
Choose from any or all of the following:
225 g Uncooked Shrimp, Chicken, Extra-Firm Tofu (cut into small pieces)

2 Eggs, beaten

3 Cloves of Garlic, chopped finely
Assembly
200 g Flat Rice Noodles

1 Cup Bean Sprouts, rinsed well and drained (fresh is best, but canned works, too, in a pinch)

1 Red Bell Pepper, sliced into fine pieces

3 Green Onions, chopped

2 Limes, quartered

⅓ Cup Dry Roasted Peanuts, salted, crushed

¼ Cup Cilantro, chopped
DIRECTIONS
Make the sauce by combining all the ingredients in a food processor, Magic Bullet or stirring with a whisk. Set aside

Stir-fry the proteins by heating 1 ½ Tbsp of oil, starting with the chicken (if using, then the shrimp and lastly, adding the tofu and egg. (Add more oil as you need it.) Move the chicken and shrimp to the side or another plate.

Add the garlic to the pan and allow to cook lightly, then add the red pepper and bean sprouts. Set aside until the noodles are cooked and rinsed.

In a medium-sized pot, heat water and cook the rice noodles according to the package instructions. Rince once cooked, and add to the pan with the proteins. Add the sauce and toss it together.

Serve topped with cilantro, green onions, crushed peanuts and a wedge of lime.
** If you want to do a vegan version and only use tofu as the protein, here's a recipe for making homemade vegan 'fish sauce.