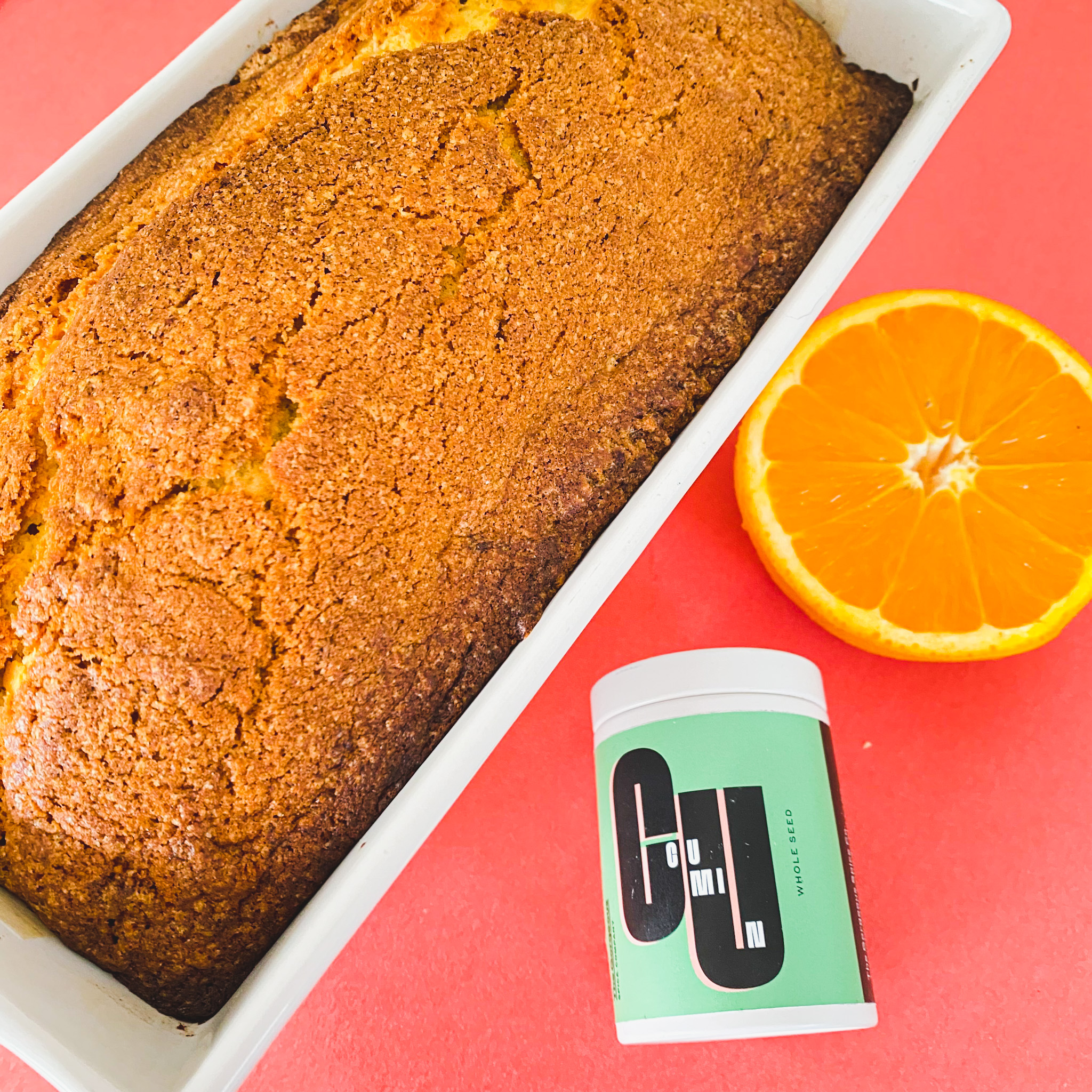 Orange & Cumin Seed Cake
This cake is not too sweet so it's a good addition to your afternoon tea or as a light dessert. By using the whole seeds, the light fruity flavour is matched with bursts of the warm cumin flavour.
This recipe comes from At My Table, by Nigella Lawson. If you happen to have Orange Blossom water, great! But if you don't (as I didn't), don't stress. The cake will turn out with a lovely light citrus note all the same.
INGREDIENTS
4 tsp Cumin seeds
300 g Flour, all-purpose
2 tsp Baking Powder
250 g Unsalted Butter (soft)
200 g Sugar (plus 1 teaspoon)
1 Orange (finely grated zest)
2 tsp Orange Blossom Water
3 Large Eggs (at room temperature)
3 x 15ml TBSP full-fat milk (at room temperature)
DIRECTIONS
You will need 1 x 2lb (900g) loaf tin, approx. 25 x 12 x 7cm / 10 x 5 x 3 inches.
Preheat the oven to 325°F and prep your loaf tin with parchment paper and butter or oil.
Toast the cumin seeds in a dry, hot frying pan, keeping watch over your pan, to not let the seeds to burn. Transfer to a plate or small bowl to cool.
In a medium bowl, combine the flour and baking powder. Set aside.
Beat together the butter, sugar and orange zest until light and fluffy, adding the orange blossom water as it mixes.
Slow the mixer down, adding the 1/3rd of flour / baking powder mixture and then beat in one of the eggs until it too is blended. Repeat with the second 3rd of the flour, followed by the second egg. And then the remaining flour and the remaining egg. Try not to over mix.
Scaping the sides of the bowl then, gently add in the milk and the cooled toasted cumin seeds.
Finish with string by hand with a spatula or wooden spoon, making sure the flour is fully mixed in. Transfer the batter into the lined loaf tin.
Smooth the top, sprinkle the teaspoon of sugar over and bake in the oven for 50–60 minutes, or until a cake tester comes out clean and the cake has a beautiful, golden top.
Place on a wire rack to cool before taking it out of the tin.
THE GORGEOUS IS A PARTICIPANT IN THE AMAZON ASSOCIATES PROGRAM. WE ARE NOT SPONSORED OR PAID TO PROMOTE SALAD FREAK OR ANY OF THE PRODUCTS WE LINK TO, EVER! HOWEVER, IF YOU MAKE A PURCHASE USING THE LINKS, THE GORGEOUS MAY EARN A TINY SHARE OF THE PROFIT ON SOME OF THE ITEMS.