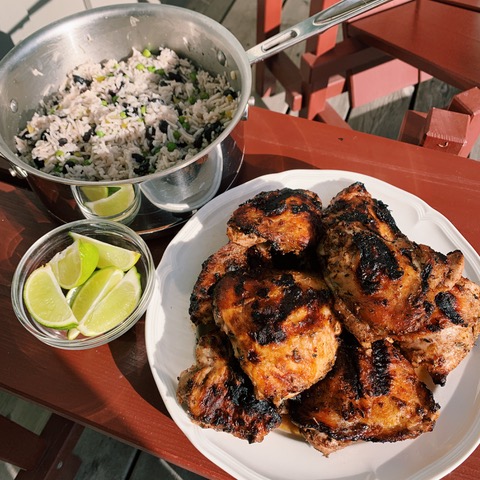 Mild-Mannered Coconut Jerk Chicken with Rice and Peas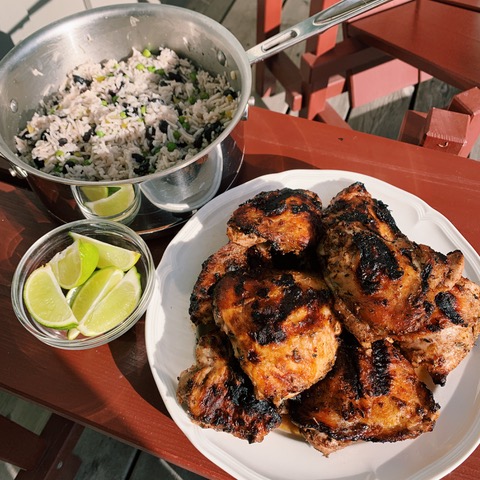 This is the recipe for anyone who likes tempered jerk flavouring. The coconut milk couples with the savoury Offbeat Jerk blend to produce ridiculously moist and moderately spiced chicken thighs. Finish off the dish with coconut flavoured rice and peas and you might just think you've travelled south. For those who like more spice, add more jerk seasoning on the chicken after roasting.
Serves: 6
Time: Prep: 10 min; Cook Time: 40 min
Ingredients
2 lbs thighs, skin on, bone-in
400 ml (1 2/3 cup) coconut milk, shaken well – divided
3 Tbsp Offbeat Jerk seasoning
2 limes
2 Tbsp vegetable oil
6 green onions, roughly chopped
1 ¼ cup (300ml) basmati rice, rinsed
1 2/3 cup (400 ml) black-eyed beans, drained and rinsed (kidney beans can be substituted)
1 ½ cup (350 ml) frozen peas
½ tsp each, salt and pepper
Instructions
Heat the oven to 325°F. Mix Offbeat Jerk with 3 Tbsp of the coconut milk and the zest and juice of 1 lime, then smear this paste over the chicken.
Leave to marinate for at least 15 minutes. Transfer the chicken to a roasting dish and bake for 35 – 40 minutes.
Meanwhile, heat the oil in a medium pan and cook the green onions for a few minutes, until softened.
Pour the remaining coconut milk into a measuring cup and add water to reach a total of 2 ½ cups (600 ml) of liquid. Pour this into the pan with the green onions and add the rice, beans, salt and pepper. Bring to a boil, then simmer for 10 minutes, stirring occasionally, until the rice is cooked, and the liquid has all been absorbed. Add the peas for the last 2-3 minutes.
Spread the rice on a platter, topped with the chicken. Squeeze the remaining lime over the chicken. Garnish with parsley or cilantro… and turn up the reggae!