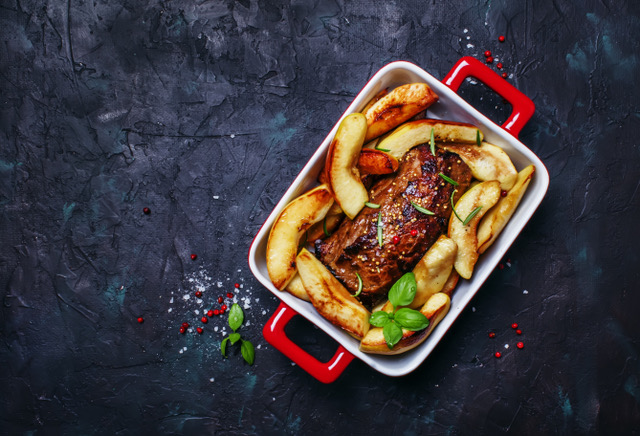 Maple & Dijon Glazed Pork Tenderloins with Apples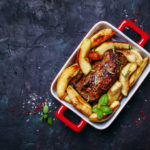 Serves 6 people
Time: Prep: 15 mins; Cook Time: 20 mins
2 pork tenderloins, about 1 ¼ lbs (450 g) each
2 Tbsp (30 ml) vegetable oil
4 shallots, chopped
2 apples, cored and sliced
¼ cup (80 ml) maple syrup
¼ cup (80 ml) chicken stock
1 Tbsp (15 ml) Dijon mustard
1 Tbsp Saturnalia blend
½ tsp salt
1 cup (250 ml) white wine
1 Tbsp butter
Fresh thyme for garnish
Preheat the oven to 400°F (205°C).
In an ovenproof skillet over medium-high heat, brown the pork in the butter and oil (about 2 mins for each of 4 sides). Season with salt and pepper. Remove pork tenderloins and set aside on a plate.
In the same skillet, sauté the shallots and apples (about 4 mins). Add more olive oil if the pan looks dry.
Mix together the maple syrup, chicken stock, mustard, Saturnalia spice blend and salt. Coat the pork tenderloins well the mixture. Return the seared pork to the skillet, place on top of the apples and onions, and drizzle the remaining sauce over everything.
Roast for about 15 minutes or until an internal thermometer inserted int the thickest part registers 145 degrees.
Remove from the oven and cover with foil. Let rest for 5 minutes before slicing.
While the pork rests, place the pan with apples and onions back onto the stove and turn heat to medium. Add the wine and use a wooden spoon to scrape the pan, lifting any brown bits from the bottom. Bring to a simmer and cook until reduced by half. Add butter and stir until melted.
To serve, slice pork into 1-inch slices then serve on a bed of the apples and onions with pan sauce drizzled on top. Garnish with fresh thyme.