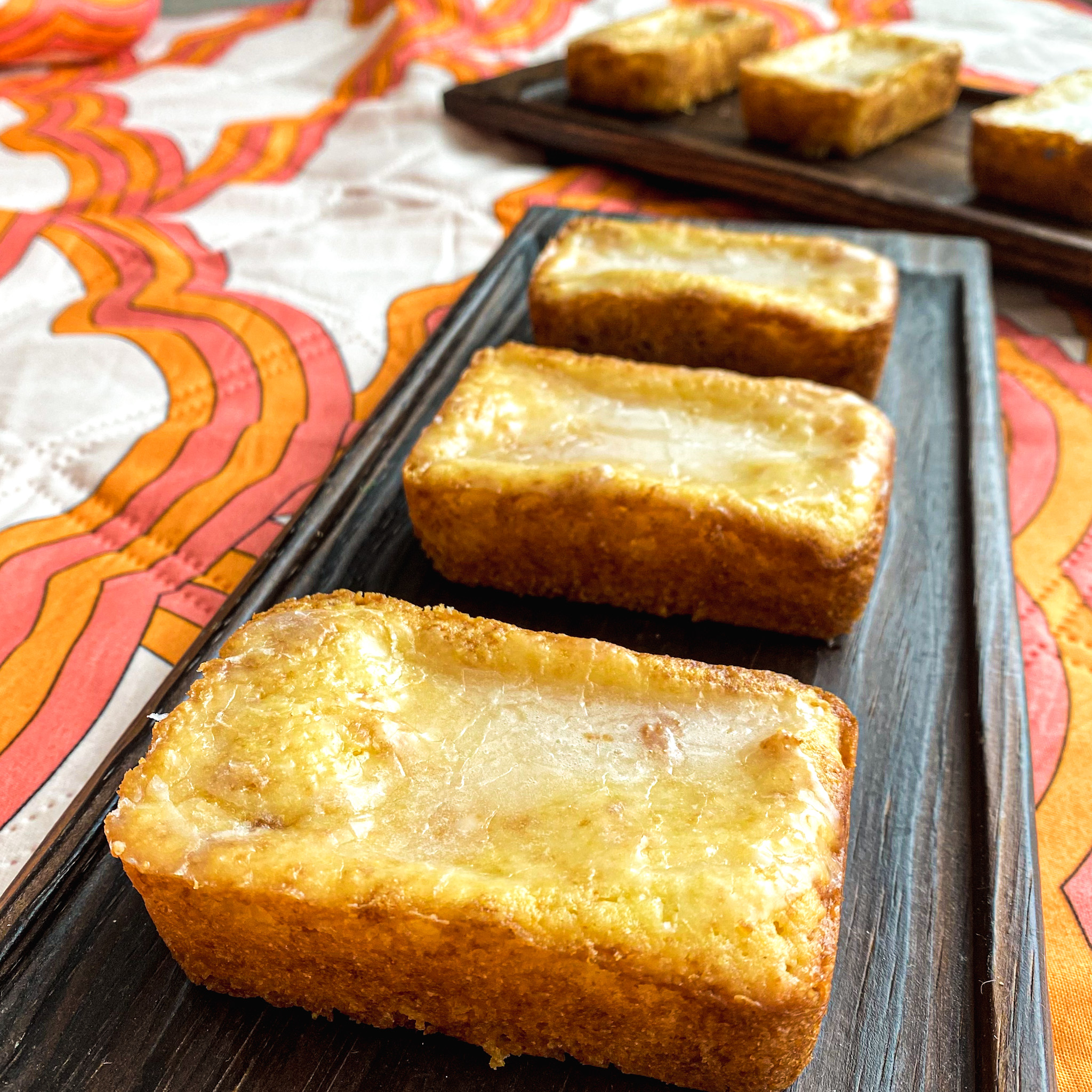 Lemon & Turmeric Corn Cake
This recipe is a family favourite! The combination of cornmeal and lemon zest gives the batter a beautiful crumb, whether it's baked as a loaf, in a bundt pan, or as bakery-style muffins. It might just be one of the tastiest corn cakes you will ever try. 
The turmeric isn't a particularly extraverted flavour in this recipe as the lemon juice and zest upstage it. The flavours are so lemony that the earthy flavour of turmeric is in the background, but the vibrance turmeric adds sure is pretty!
INGREDIENTS
1 ¾ Cups All-Purpose Flour
¾ Cup Cornmeal
1 ½ tsp Turmeric
2 ½ Baking Powder
¾ tsp Baking Soda
¾ Cup Butter (+1 Tbsp extra), unsalted and at room temperature
¾ Cup Sugar (+3 Tbsp extra)
1 tsp Salt
Zest of 4 Lemons
2 Tbsp Lemon Juice, freshly squeezed
2 eggs, room temperature
3 ½ Tbsp Olive Oil
3 Tbsp Honey
1 Tbsp Vanilla Extract
1 ¾ Cup Sour Cream or yogurt (some fat content is better than zero fat)
GLAZE – Optional.
1 Cup Powdered sugar
2 Tbsp Lemon juice, freshly squeezed
1 tsp Cream, either 18 – 35 %
DIRECTIONS
Preheat the oven to 350° F and prep your pan with oil or line it with paper muffin liners.
In a medium-sized bowl, whisk together the flour, cornmeal, turmeric, baking powered and baking soda. Set aside.
Combine the butter, sugar, and salt using a hand or stand mixer (with the paddle attachment).
Continue to blend while you add the lemon zest, and then one at a time, add the eggs and then the oil.
Reduce the mixer speed, adding in the flour and cornmeal until just blended. (Avoid over-mixing.)
Last, add the sour cream or yogurt using a spatula to blend gently. (Again, don't over mix.)
Bake for 25 minutes for muffins or mini-loafs (55-60 minutes for full-size loaves or bundt cake), checking that it's fully baked by looking at the colour, gently checking that the top springs back to the touch and by inserting a toothpick in the centre. If the toothpick comes out clean, the muffins or cake should be done.
While the cake is baking, combine the glaze ingredients. Apply the glaze to the cake using a spoon to drizzle and spread when it's still warm out of the oven (not hot).
(Keeps for 2 days if covered well.)