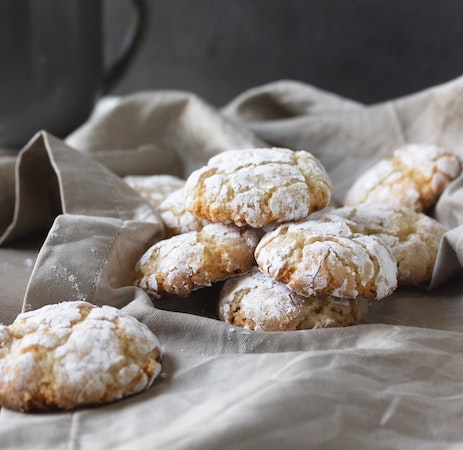 Lemon Cardamom Crinkle Cookies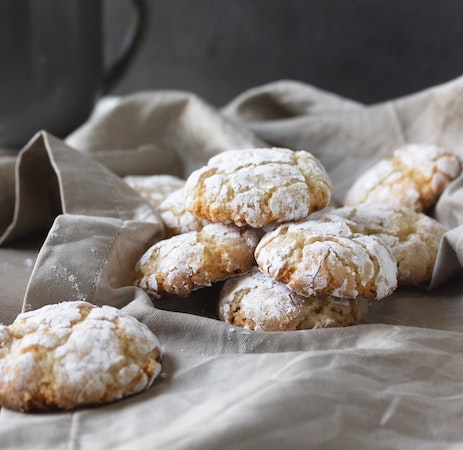 These are a tasty and glamorous addition to any cookie exchange!
INGREDIENTS
2 Cup Flour
1 tsp Cardamom (ground)
1 tsp Baking soda
½ tsp Fine sea salt
½ Cup Butter, (Unsalted, room-tempurature)
1 Cup Sugar
2 Eggs (room temperature)
11/2 Tbsp Lemon juice (freshly squeezed)
Lemon zest of 2 lemons
½ tsp Lemon extract
½ tsp Vanilla
½ Cup Icing sugar
INSTRUCTIONS
Pre-heat oven to 350 degrees F and prep two cookie sheets with parchment paper.
Whisk together the flour, cardamom, baking powder, salt, lemon zest in a large bowl.
In a separate bowl, cream the butter and sugar together until fluffy, then add the vanilla, lemon extract and eggs one at a time.
Mix the wet and dry ingredients on low speed. (Don't over mix.) Roll the dough into 1 ½" balls.
Put the icing sugar in a bowl and roll the balls, coating each one well. Place on the cookie sheets with about 2″ of space between each one.
Bake for 13 minutes. Cookies will flatten and crinkle, but not brown. Cool on a wire rack. Keep in well-sealed container.