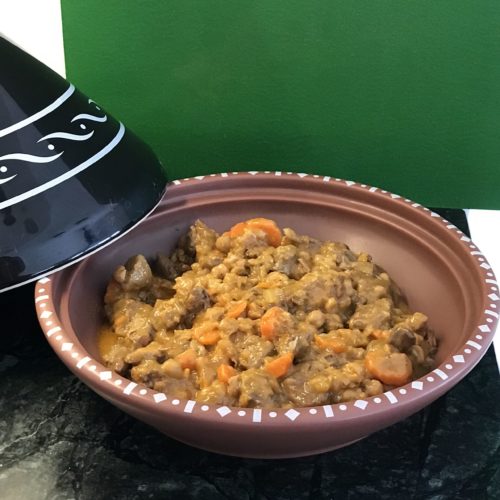 Lamb and Cardamom Stew
The exotic and warm flavours of this lamb stew make it a delight to serve at a dinner party. This is a great dish to make in advance as the flavours just seem to get better. Great served with rice, polenta or sweet potato.
2 Tbsp olive oil (+ 1 Tbsp of olive oil for cooking)
2 tsp cumin
2 tsp ground cardamom seeds
1 tsp turmeric
1 tsp salt
1 lbs of lamb (cubed)
½ cup onions
3 garlic gloves, chopped
3 carrots (cut into large slices)
½ cup celery, chopped
1 can (540 ml) chickpeas (rinsed)
1 cup chopped apricots
1 Tbsp honey
zest from one lemon
Optional. Add pepper, to suit your preferred taste.
Heat oven to 325
Mix first 5 ingredients (using only 2 of the 3 Tbsps of olive oil).
Add lamb to the mixture, mixing it around to coat the meat.
Heat remaining Tbsp of oil in a dutch oven (or frying pan) at medium-high heat. (This also works well in a pressure-cooker if you are short on time. Cooking time is then reduced to 45 min.)
Brown the lamb in batches. Set aside.
Add onions and garlic. Cook for 5 min.
Transfer everything to the dutch oven, tagine or pressure-cooker and mix.
Add celery, lemon zest, chickpeas, apricots, honey and carrots. Stir together.
Cook in oven for 2 hours at 325 degrees.