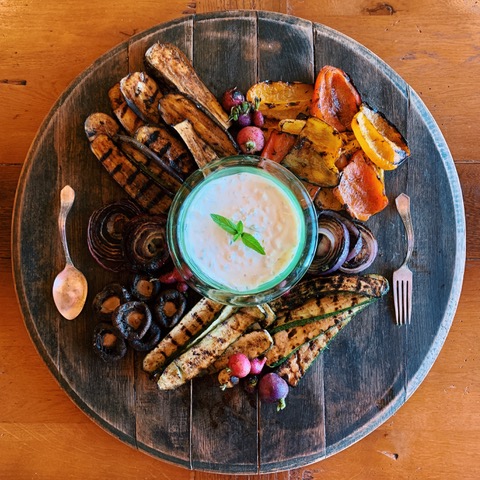 Jerk Charcuterie Veggies with Yogurt Dip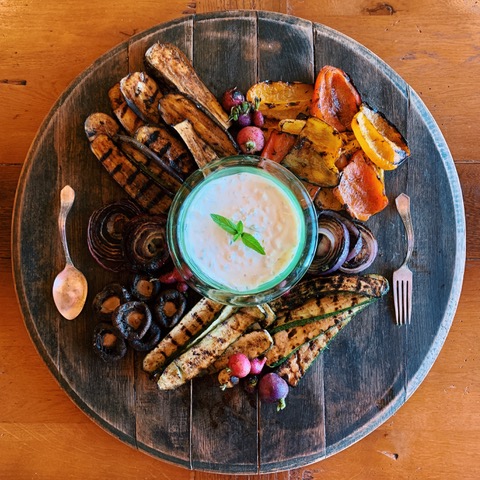 Fear not –jerk puts a little jump in grilled veggies but does not overwhelm or burn the inside of your mouth. It simply moves mundane veggies into the stratosphere of outstanding. Accompany with the yogurt dip for a perfect summertime outdoor meal.
Serves: 8
Active time: 25 min
Ingredients – Vegetables
1 medium eggplant, sliced lengthwise
3 medium zucchinis, sliced lengthwise
4 portobello mushrooms, or 10 mini-bella mushrooms, stems removed
2 red bell peppers cored and sliced in half
10 radishes, whole
1 large red onion
(Or substitute with any other veggies – asparagus, cabbage,
3 Tbsp olive oil
2-3 Tbsp Offbeat Jerk
Ingredients – Yogurt Dip
2 cups plain Greek yogurt
4 cup fresh lime juice + zest of 1 lime
½ cup minced scallions
½ tsp salt
Cilantro or mint, chopped as garnish
Instructions
Wash and prepare vegetables as directed. Place vegetables in a very large mixing bowl and drizzle with olive oil. Toss gently to coat with oil.
Sprinkle spice mix over vegetables and gently toss and rub spice mix into vegetables. Let coated vegetables sit for 10-15 minutes.
Preheat a grill to medium-high heat. Working in batches as necessary, grill vegetables until tender and lightly charred on each side, about 8-10 minutes per batch. Let vegetables cool slightly, and then slice into serving pieces and display on a large serving tray.
For yogurt sauce, mix together Greek yogurt, lime juice, zest, scallions and salt. Place in a bowl and add to the vegetable tray. Garnish with herbs.