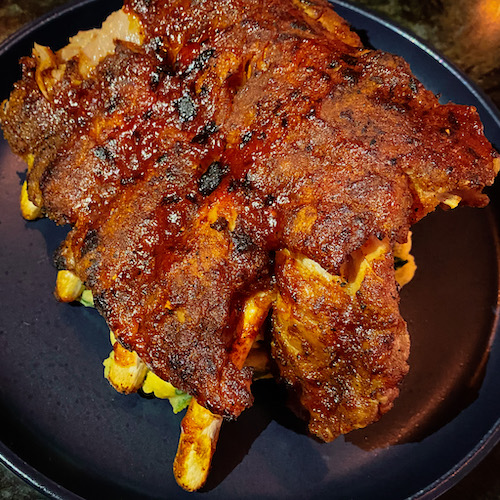 Instant Pot Ribs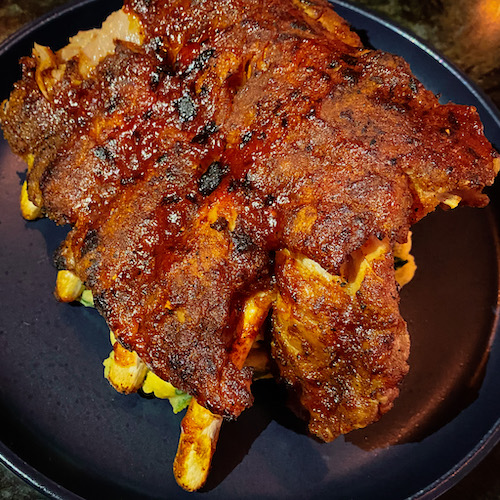 Depending on what you have, these are tasty when done in a slow cooker or an Instant Pot (or a pressure cooker). The Instant Pot seems to get super tender results, so if you have both, why wait!?
Serves 4 people / Prep time 12 minutes / Cook time 45 -50 minutes
INGREDIENTS – RIBS
1 – 2 Racks of Ribs
1 TBSP Lonestar's Leap
½ TBSP Bown Sugar
1 ½ tsp Garlic Powder
1 tsp Onion Powder
1 tsp Salt
½ tsp Black Pepper, freshly ground
1 Cup of Water
⅓ Cup Apple Cider Vinegar
1 tsp Liquid Smoke
INGREDIENTS – BBQ SAUCE
1 Cup Ketchup
⅓ Cup Apple Cider Vinegar
1 TBSP Worcestershire sauce
1 TBSP Dry Mustard
2 tsp Lonestar's Leap
1 ½ tsp Salt
1 tsp Black Pepper, freshly ground
A dash or two of Hot Sauce or ⅛ tsp Cayenne *Optional
DIRECTIONS – RIBS
If there are any course-looking membranes on the back of the ribs, remove them the best you can.
Mix all the dry ingredients to create a dry rub. Coat both sides of the ribs with it.
Pour the water, apple cider vinegar and the liquid smoke in the bottom of the Instant Pot and, using the wire trivet, set the ribs in the Instant Pot, (meat side facing the outside of the pot) wrapping them around so that they fit. (Create a second row if you need it.)
Seal the Instant Pot, closing the lid and the vent – and set it to manual for 28 minutes. Then allow it to naturally release for 14 minutes.
While cooking, line a baking sheet with foil and set it aside while you make your BBQ Sauce. (Directions below)
Flip the valve to finish releasing any pressure, and gently lift the ribs out onto the foil-lined baking sheet. Cover with BBQ sauce. (Either store-bought or homemade)
Broil on high for 2 – 3 minutes with the meat-side up. (Keep an eye on them, so they caramelize nicely but don't get burnt.
Serve with a bed of mash potato or Stamppot, rice or a side salad.