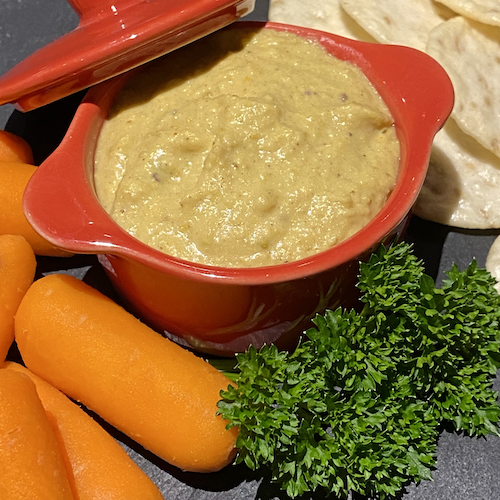 HUMMUS WITH DIAL R FOR RAS
The best hummus is lusciously creamy, yet somehow light and fluffy. (Peeling off the skins will give you an extra-smooth texture.)
Here the combination of Dial R for Ras and orange (both the juice and the zest) add an unexpected flair to this crowd-pleasing snack.
INGREDIENTS
45 g Shelled Pistachios (or other nuts) finely ground
1 can Chickpeas, rinsed (and ideally with the shells removed – here's how to remove the shells)
1 clove of Garlic, minced
½ Orange (both the juice of and the zest of)
1 tsp Lemon juice, fresh squeezed
1 Tbsp Tahini
2 tsp Dial R for Ras
2 Tbsp Olive oil, plus a bit extra to drizzle on top when you serve it
DIRECTIONS
Gently toast the nuts and then set them aside.
Combine all the ingredients in a food processor. Whiz until very smooth adding a bit of water or olive oil as needed until you get a good consistency. Scape the sides of the food processor as you go to make sure everything is blended.
Serve room temperature with veggies, or crackers.