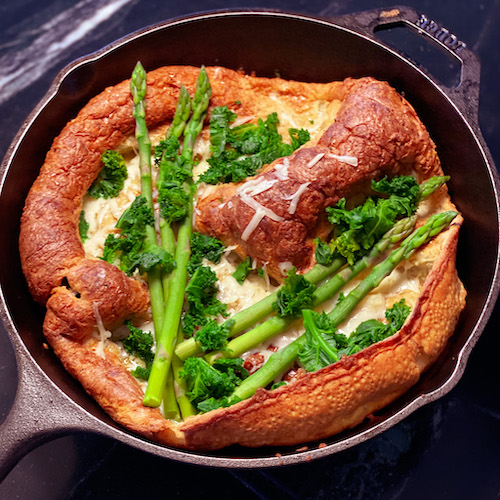 Hootenanny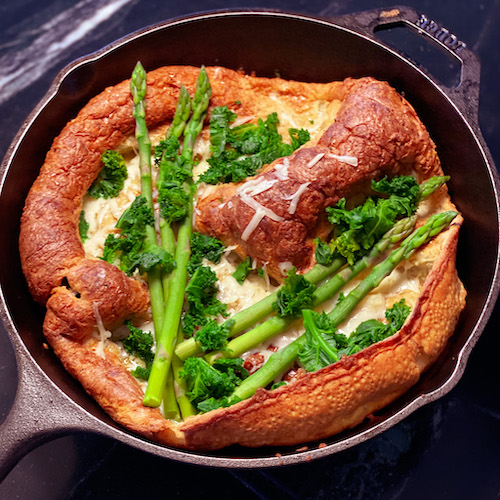 Cross a pancake with a popover, bake it in a cast-iron pan and add toppings (like a pizza) to serve it, and you have a Hootenanny! This is a savoury take on what is sometimes called a 'Dutch Baby' (served as a dessert with berries and sugar). The mushroom, onion, garlic and sage in Rather than Flowers are subtle but flavoursome.
2 Servings / 20 Minutes active /
40 Minutes total time
INGREDIENTS
3 Eggs, room tempurature
2/4 Cup Milk, room tempurature
3 Tbsp Butter, unsalted, melted and cooled to room tempurature
½ Cup Flour
2 Tbsp Cornstarch
2 Tsp Rather than Flower
Black pepper, fresh ground to taste
Choice of toppings – cheese, mushrooms (sautéd), prosciutto, ham or bacon, kale, asparagus, fried egg, avocado, and smoked salmon.
DIRECTIONS
Preheat the oven to 450 degrees with your oven-proof skillet (cast iron). Don't butter your pan yet! Let the pan heat up with your oven.
In a medium-size bowl, mix together the flour, cornstarch and Rather than Flowers.
Blend the eggs so that they are frothy, using a high-speed setting. Add the milk slowly, keeping the blender on high.
Add 2 Tbsp of the butter to the blended eggs (reserving 1 Tbsp for greasing the skillet).
Then gently add the flour mixture until just blended.
Take the skillet out of the oven. Add the butter, pour your batter into the pan and replace in the oven for 20 – 23 minutes
Prep your toppings. Depending on what you want to serve, grate cheese, blanch spinach or kale, cut your avocado, and/or sauté mushrooms.
When fully cooked, top with your choice of toppings and serve.