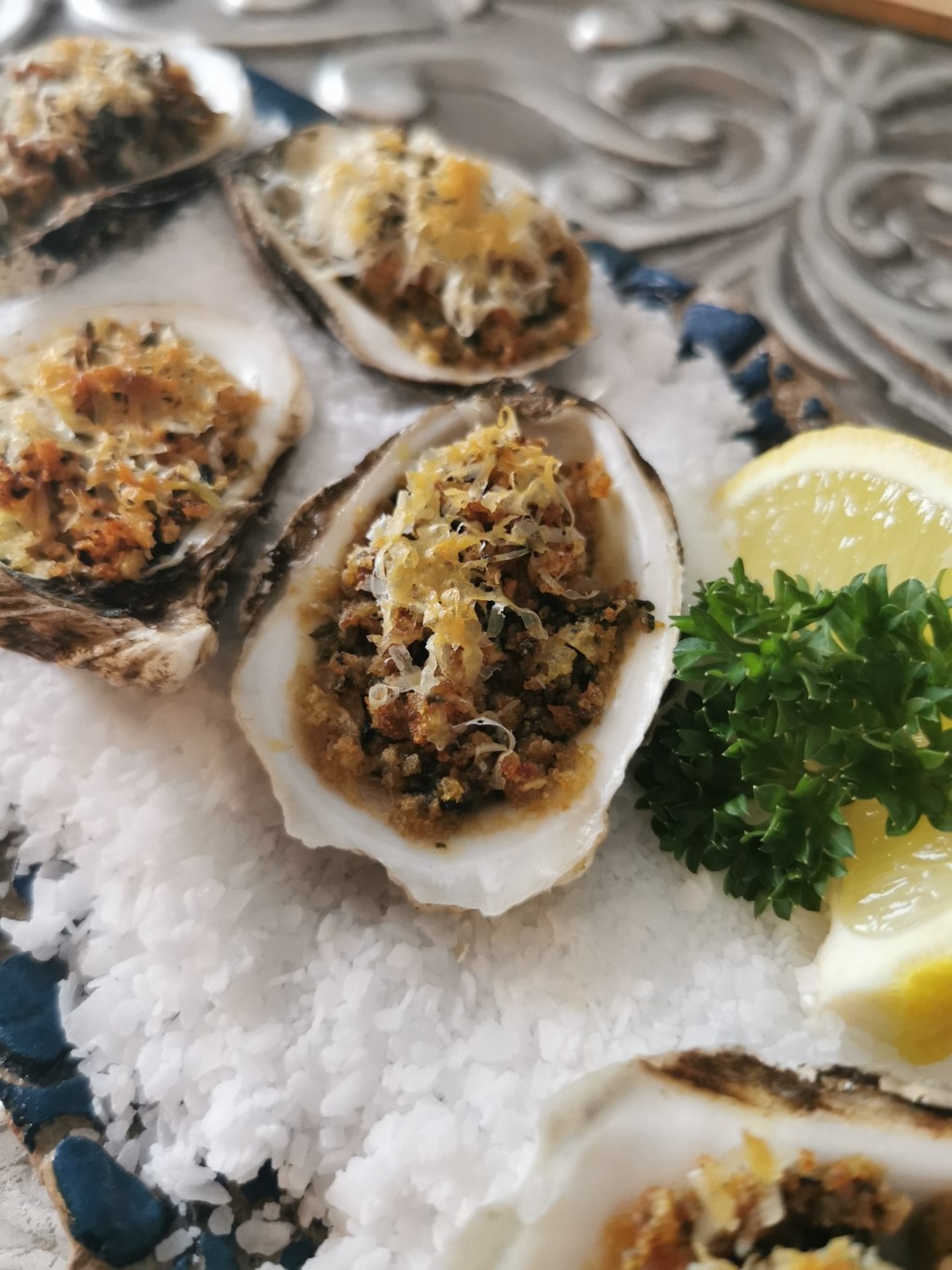 Gorgeous Rockin' Oysters
A sure way to impress your guests with this fun spin on the classic Oysters Rockefeller. Oysters, on the half-shell topped with a buttery, herby, panko crumb, flavoured with Saturnalia. (Switch out the panko for crushed pork rinds for a low-carb option!)
INGREDIENTS
1/3 Cup Butter, unsalted
2 Garlic cloves, crushed
½ Cup Panko Breadcrumbs (or 1 Cup of Crushed Pork Rinds)
½ Onion, small and finely chopped
2 Cups Spinach, fresh
1/3 Cup Beer (lager style/ or you can sub white wine)
1 tsp Saturnalia spice blend
Salt + Pepper, to taste
1 Tbsp Olive oil
1/3 Cup Pecorino Romano Cheese (plus a little extra for topping)
24 Oysters, fresh and on the half shell
Rock Salt
Lemon wedges and hot sauce, to serve.
DIRECTIONS
Preheat oven to 450.  Cover the bottom of a baking pan with rock salt. Arrange the oysters on the salt bed to steady them.
In a bowl, mix together Panko (or pork rinds), Saturnalia blend, salt and pepper. Set aside.
In a skillet, melt butter and saute onion for 2 minutes and then add garlic.  Saute one minute more adding spinach and cook until it welts.
Deglaze the pan with beer or white wine and allow the mixture to cook down for a few minutes. Remove from heat and allow to cool for 5-10 minutes.
To the breadcrumb mixture, add the olive oil and pecorino and season with salt and pepper. Combine the breadcrumb mixture with the spinach mixture and stir to combine. Spoon a heaping tablespoon of the mixture onto each oyster and top with a pinch of the extra grated pecorino.
Bake for 10-15 minutes until golden. Serve hot with lemon wedges and hot sauce.