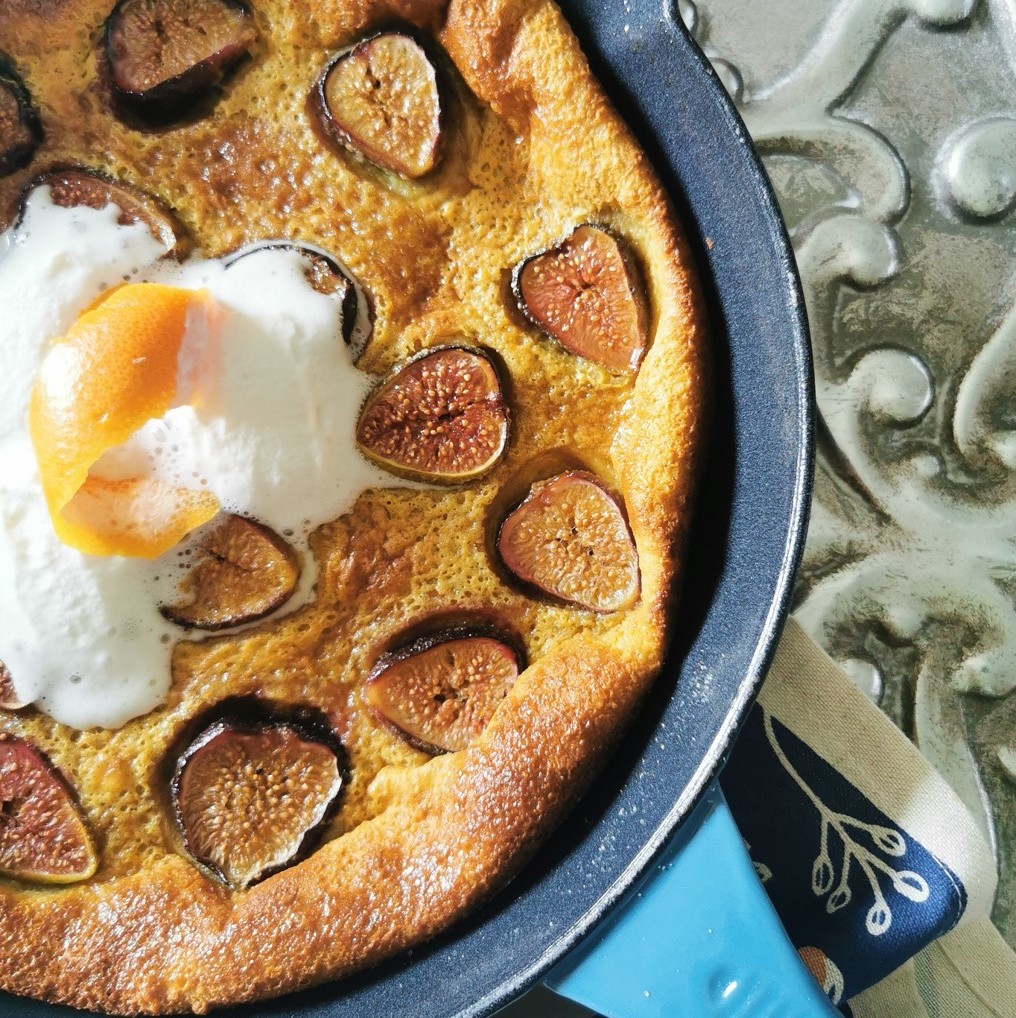 FIG CLAFOUTIS
Clafoutis is a tart made of fruit and baked in a sweet batter traditionally made with black cherries, but we've subbed them out for juicy fresh figs.
This recipe is surprisingly uncomplicated, and fast to whip up. All you need is a blender, fresh figs and a few other ingredients you likely have in your kitchen already.
Serve as a dessert, snack or warmed up the next day for breakfast- because cake for breakfast is always a good idea.
INGREDIENTS
1 Cup Cream (half and half )
½ Cup Sugar, (granulated ) plus more for dusting the pan
2 Eggs
1 tsp Vanilla
1 tsp Orange Zest, freshly grated
¼ tsp Kosher Salt
¾ tsp Dial R for Ras
1/3 Cup Flour
1 8oz pkg Black Mission Figs
Dial R Glaze
2 Tbsp Brown Sugar

¼ tsp Dial R for Ras
4 Tbsp Hot Water
DIRECTIONS
Preheat oven to 425 F. Spray a 9" baking dish or cast iron pan with non-stick spray and dust the pan with sugar.
In a blender, combine the cream with ½ cup sugar, eggs, vanilla, orange zest, salt and Dial R for Ras.
Add the flour in 3 batches, pulsing the blender for 10 seconds after each addition.  Let the batter sit at room temperature for 30 minutes.  The batter will be runny.
Cut the Figs in half, lengthways. Pour in the batter in the prepped pan and arrange the figs cut side up in the dish.
Bake for 15 minutes and then reduce the oven temperature to 375 F and continue to bake the Clafoutis for 20-25 minutes until the edges are golden and the custard sets in the centre.
When the clafoutis is a few minutes away from being done, prepare the glazed.  Mix the brown sugar, Dial R for Ras and the hot water together.  Stir to dissolve the sugar.
As soon as you remove the clafoutis from the oven, use a pastry brush to gently brush the glaze over the top and let sit for 5 minutes before serving.  Serve with a nice dollop of fresh whipped cream or vanilla ice cream.
Pairs nicely with a nice Port or Madeira Wine.