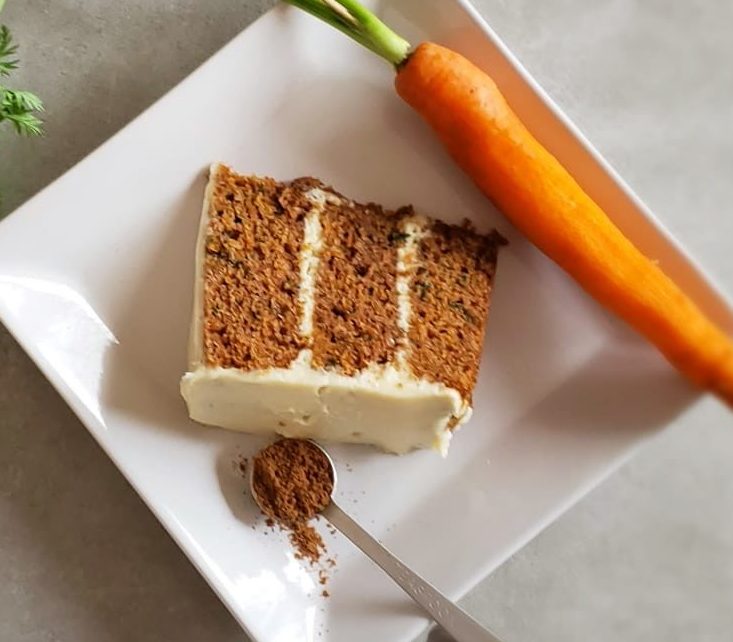 Fabulous Carrot Cake
Is it someone's birthday? Are you bringing dessert to the next potluck? This will wow any crowd. (This recipe makes an 8″ triple layer cake or 9″ double-layer. Cut quantities in half for a single-layered cake.)
CAKE RECIPE
3 cups of finely grated carrots
11/2 cup of brown sugar (packed)
4 eggs
½ cup apple sauce
¾ cup of vegetable oil (or canola oil)
1 ½ tsp vanilla extract
3 cups of all-purpose flour
2 tsp baking powder
1 tsp salt
1 ½ Tbsp of Scorpio's Kiss
1 Tbsp of cinnamon
1 cup chopped walnuts (optional)
1 cup of raisins (optional)
Pre-heat oven to 350ºF. Spray (or butter) two (or three) pans – and line pans with parchment paper.)
Whisk together flour, baking powder, baking soda and Scorpio's Kiss in a large bowl.
In a separate bowl, mix carrots, oil, sugars and vanilla extract. (Add raisins and walnuts here, if you wish.)
Combine wet and dry ingredients, ensuring not to overmix the batter.
Pour into pans as evenly as possible.
Bake for 30 – 35 minutes, or until the tops are set, and a toothpick comes out clean. Once out of the oven, set on a wire rack to cool in pans for at least 20-25 minutes. Remove cakes from pans to completely cool off after 20-25 minutes.
CREAM CHEESE ICING RECIPE
500 g of brick-style cream cheese (2-packages /room temperature)
½ cup unsalted butter (room temperature)
2 cups icing sugar
1 tsp vanilla extract
*You may want to increase the ingredients by 50% for the icing if making a triple layer.*
Mix butter and cream cheese in a stand mixer with a paddle attachment (or using a hand-held mixer).
Add vanilla and mix.
Then a little at a time, add the icing sugar. Keep mixing, and scraping the sides until everything is combined.
ASSEMBLY
Set up cakes so that the rounded tops are upright and level off (using either a knife or a cake leveller). This is a great chance to sample the cake in advance!
Place 4 small pieces of parchment paper or wax paper, slightly overlapping each other, to make a square on the outside of your cake stand or plate. (This will catch any drips or slops when you add the icing to the sides of the cake.) Place the first cake on the stand.
Spread ½ cup of icing on the top of the first cake. Set the second cake on top. (Repeat this step if doing a triple-layer cake.)
Cover the entire cake – top and sides with the remaining icing.
Optional – Decorate with chopped pecans, either on the side or the top.