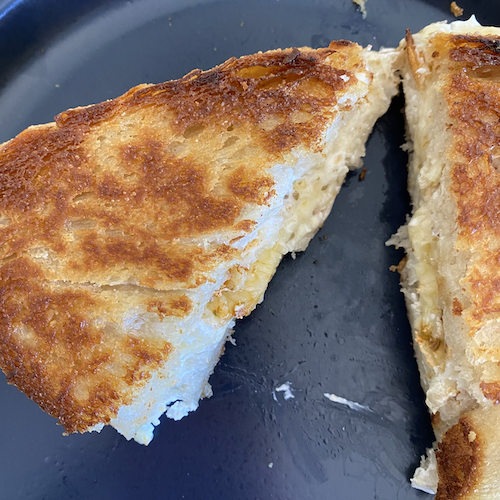 CREAMY GRILLED CHEESE WITH CORIANDER
To say this grilled cheese is elevated would be an understatement. This fragrant and nutty spice adds a really interesting twist to the classic gooey deliciousness. (Add a bit of yogurt to it, too for a little extra creaminess as well as a hit of tangy flavour.) Adding these two ingredients will take your comfort food to the next level!
INGREDIENTS
2 Slices of Bread (Sourdough is amazing if you have it!)
1 Dollup of Greek Yogurt
Old Cheddar, grated (about ⅓ – ½ Cup depending on the size of your bread)
1 ½ tsp Coriander, ground
2 Pinches Smoked Paprika
2 Pinches Salt
2 tsp Butter, unsalted
DIRECTIONS
Heat a frying pan on medium-high heat.
Butter the outside of the bread, and apply the yogurt to the inside of the bread (spreading it like the butter) and sprinkle both with the smoked paprika.
Add the cheese to one side of the bread, then evenly sprinkle the coriander and salt on top.
Place the butter side down in the frying pan adding the other slice on top. Using a spatula, gently flatten it so that the melting cheese connects to both sides of the bread.
After about 3-4 minutes the first side should become golden and crisp. Flip and repeat so that the reverse side gets browned.
Serve warm.