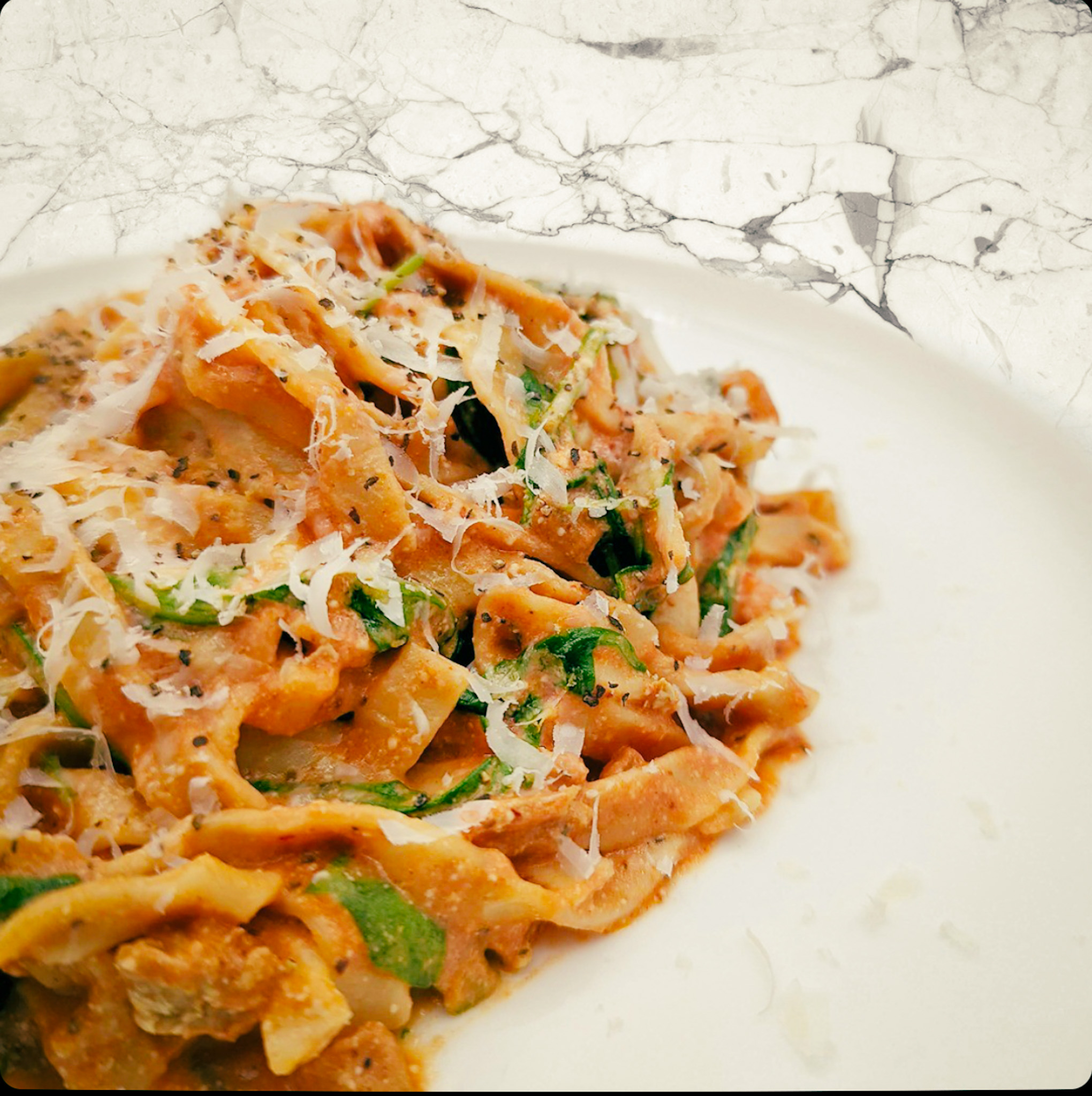 Creamy Brick Lane Turkey Pasta
This decadent feel-good dish is a Mediterranean x Curry fusion. It's hearty and scrumptious, making it the perfect comfort food for the winter. And the layers of flavour, salty, creamy, warm and earthy, are so unexpected that you find yourself craving the next bite.
INGREDIENTS
250 g Feta Cheese, in a block shape, ideally
1 Onion, yellow, diced into small pieces
3 cloves of Garlic
2 tsp dried basil
1 tsp dried oregano
1 tsp dried Thyme
½ Aleppo Chili *Optional
Salt & Pepper to taste
2 Cups Tomato Passata (strained tomato puree)
4 Tbsp Olive Oil
454 g Pasta (any shape of pasta will work well/photo shows Linguini)
454 Turkey, ground
1 Tbsp Oil, grapeseed or Canola
1 ½ – 2 Tbsp Brick Lane Takeaway
142 g Arugula, fresh
Freshly grated parmesan and black pepper to garnish
DIRECTIONS
Preheat the oven to 425°.

Place the feta cheese block diced onions and garlic into a large baking dish. Sprinkle with basil, oregano, thyme, chilli (*optional), black pepper and salt. Pour the passata around the outside of the feta block. (Avoid covering the feta with the passata, if you can.) Bake for 20-25 minutes on the middle rack. (The sauce will be bubbling and the feta lightly charred and soft to the touch.)

Cook your pasta, and save 1 Cup of the cooking water when you strain it.
In a large pot, heat the oil on medium heat. Add the ground turkey, and sprinkle with 1 Tbsp (half) of Brick Lane Takeaway cooking for 4 minutes. Then turn and break up the ground meat and continue to cook, adding the remaining spice as well as some fresh ground pepper.
Once the meat is cooked through, add the feta and sauce, as well as the reserved pasta water and stir quickly with a spatula to blend.
Add the pasta and mix together. Then add in the fresh arugula folding it in just before serving.
Serve with grated fresh parmesan cheese and fresh ground pepper.
Recipe and photo credit with thanks, Adam Wenzel. Follow Adam on Instagram at @ambrewzia for lots of flavour-forward recipe inspirations!