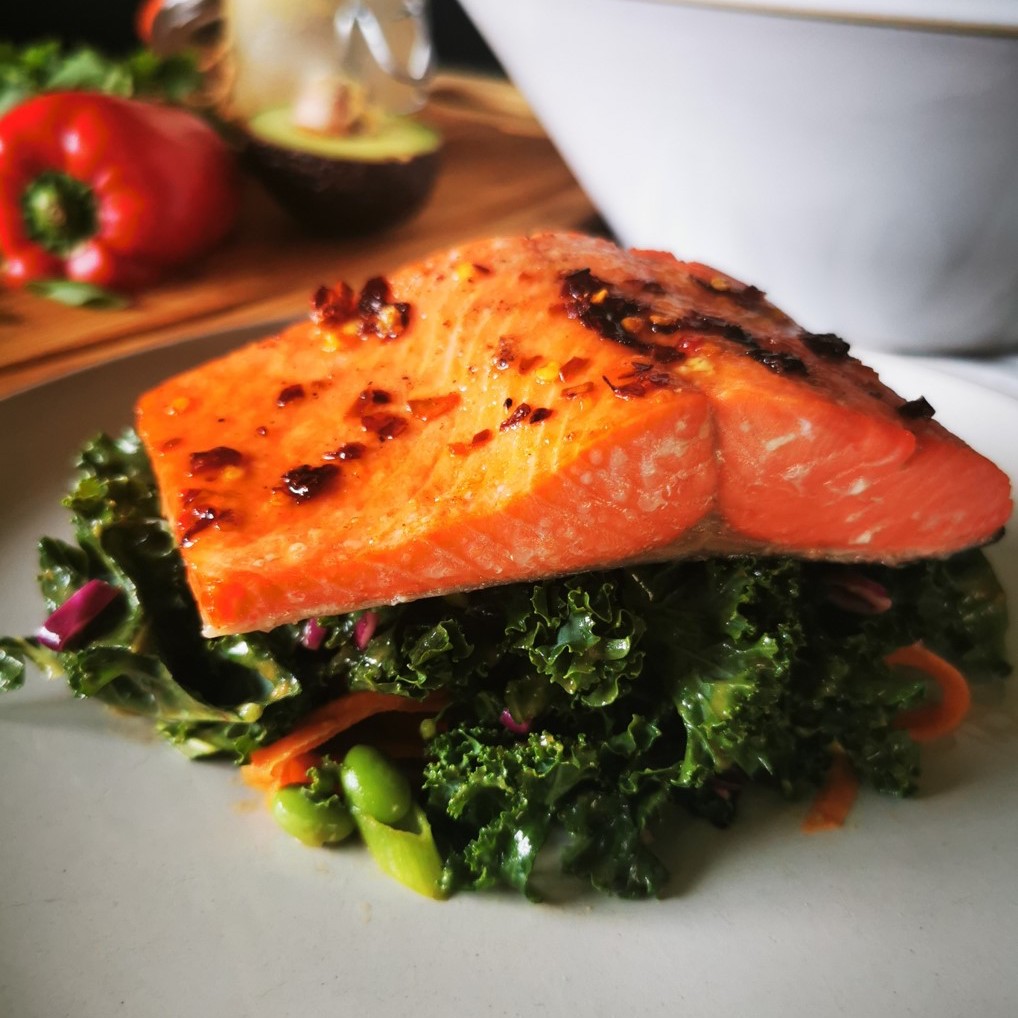 Maple-Chile Kale Salad with Chile-Glazed Salmon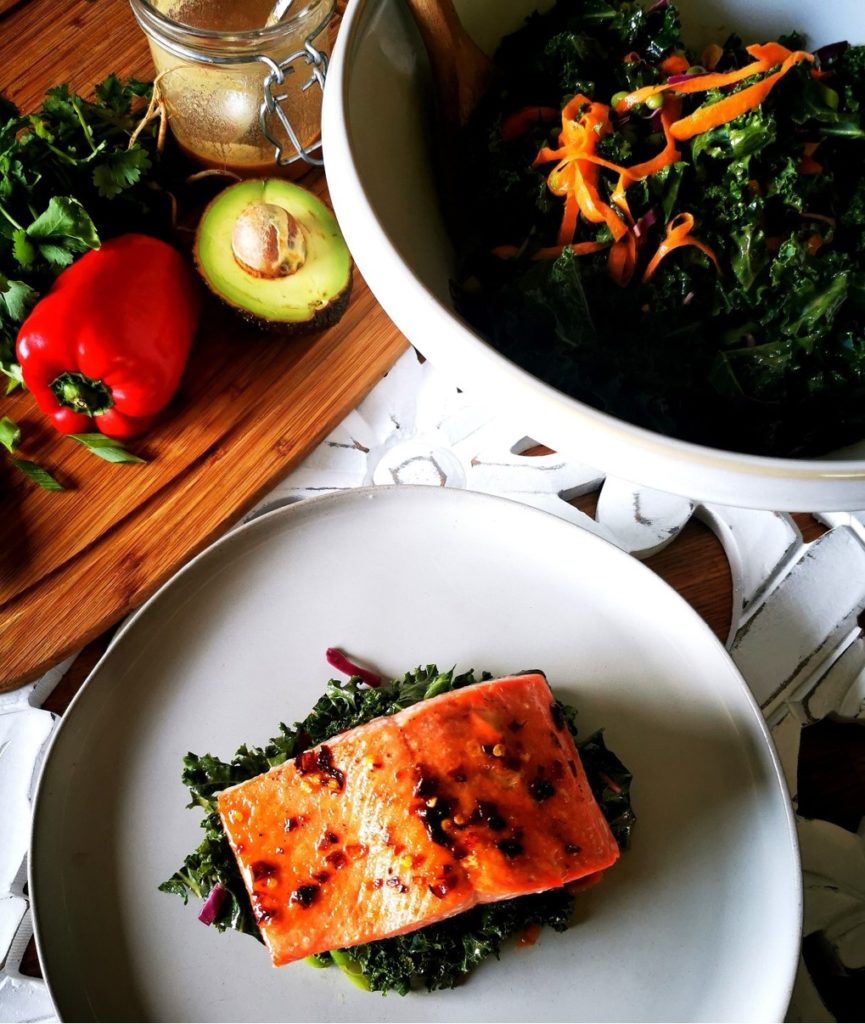 Serves 4
INGREDIENTS
PEANUT-CHILI DRESSING
4 tsp Peanut butter, smooth
1tsp Crushed chile flakes
2 Tbsp Maple syrup
4 tsp Rice wine vinegar
½ tsp Sesame oil
Juice of 1 lime
2 tsp Ginger, minced and fresh
2 Cloves of garlic, crushed
SALAD
1 large bunch of Kale (about 6 Cups)
2 Carrots, peeled and cut into ribbons using a vegetable peeler
1 bag of Mini-mixed Sweet peppers, thinly sliced
1 Cup of Edamame, shelled, cooked and chilled
1 Cup of Cucumber, diced
4 Green onions, sliced thin
1 Cup of Cilantro, fresh
1 Avocado diced
½ Cup Cashews, roasted and roughly chopped
CHILI GLAZED SALMON
4 x 6oz Salmon filets (wild salmon is best, skin on or off based on your preference)
2 Tbsp Olive oil
2 Tbsp Maple syrup
½ – 1 tsp Crushed chile flakes, or to taste
½ – 1 tsp Salt, or to taste
DIRECTIONS
SALAD PREP
Add the dressing ingredients to a jar with a secure lid and shake vigorously until combine. Refrigerate until ready to use.
Combine all the salad ingredients except the avocado and cashews into a large bowl. Drizzle with the dressing and toss.
Season with salt and pepper to taste.
Chill the dressed salad for 10-15 minutes before serving. (Prep the salmon while the salad is chilling.)
SALMON PREP
Turn the oven's broiler on high and position the top oven rack 5"-6" below the heat. Place a sheet of parchment paper on a baking sheet.
Place the salmon fillets on the baking sheet, skin side down and frizzle each filet with equal amounts of olive oil and maple syrup.
Sprinkle each piece with chile flakes and salt to taste.
Broil the salmon for 8 minutes and then rotate. Broil for an additional 4-6 minutes until the desired cook. Remove from oven.
Portion the salad onto 4 plates and top with salmon, diced avocados, cashews and serve.