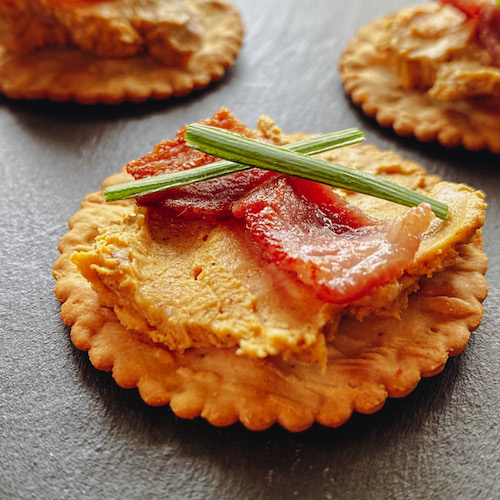 Cheesy Pumpkin & Bacon Canapés
Subtle pumpkin flavour and Lucky Spice give this cheesy spread a nice fall flair. Made with cheddar and cream cheese, canned pumpkin, pecans, and topped with bacon, this is sure to be a conversation starter at your next festive gathering.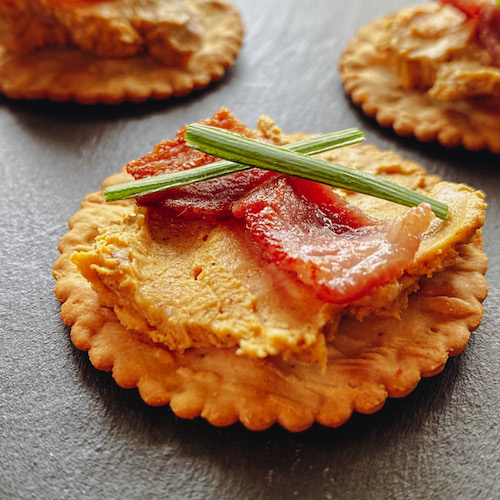 INGREDIENTS
1 brick of Cream Cheese
½ Cup Chedder, medium to old, shredded
½ Cup Pumpkin purée
¼ Cup Pecans or Walnuts, toasted gently and chopped
1 tsp Lucky
½ tsp Salt
A pinch of crushed chillies *Optional
3-4 slices of Bacon (depending on how many canepés you are making), cooked with crispy edges
2 Green Onions, cut into small garnish-sized strips
Crackers to serve. (Also, tasty as filling for celery for a no-carb option.)
DIRECTIONS
Using either a standing mixer with the paddle attachment (if you have one) or a hand-held mixer, blending together the cheeses, pumpkin, spices and nuts.
Cut the cooked bacon slices into small pieces.
Spread the cheesy pumpkin spread on a cracker, add the bacon on top and garnish with the green onions.
Best served with warm bacon.